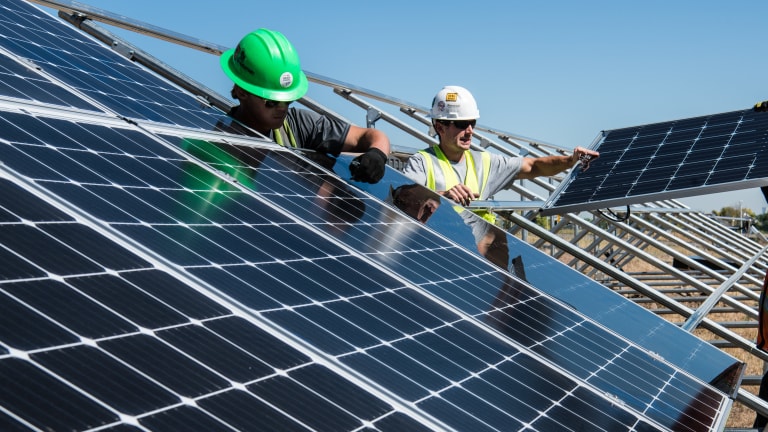 Worried about climate change? Here's what experts say you should lobby your politicians about
Collective action is required to achieve the scale of change that's needed.
This week saw Minnesota mark climate week, and it comes in the wake of a series of studies showing that Earth is facing catastrophic consequences if drastic, immediate action isn't taken to address greenhouse gas emissions.
While we can make changes on an individual level to become more eco-friendly consumers, ultimately it's collective action that is required to achieve the scale of change that's needed.
And while climate dread can lead to a feeling of helplessness, one way you can seek to effect meaningful change is by lobbying your politicians on climate issues. 
We've spoken to some of Minnesota's and America's climate change experts to provide some ideas on how you should go about this at the city, state, and national level.
When thinking about lobbying politicians, Sarah Goodspeed, the senior, youth and policy manager of the nonprofit Climate Generation: A Will Steger Legacy, has something to remember:
"Solutions at any level reinforce those at every other level and intersection, and we need it all. Lean in wherever you are and just get started; you don't have to do one big thing to make a difference," Goodspeed told Bring Me The News this week. "Do what you can where you can. Follow most-impacted communities directly. Encourage people to see themselves as decision-makers and run for office, for school board, city council, conservation district, senate: they're all regular people just like us and we need more climate champions in those spaces."
Climate Generation is a Minneapolis-based nonprofit with a mission to "empower individuals and their communities to engage in solutions to climate change."
Related [Aug. 9, 2021]: Here's what the UN's climate report says about Minnesota's future
Here are some ideas for what to talk to your representatives about:
At the city level
There are dozens of ways you can effect change in your community. Here are a few ideas:
— More investment in city-level programs that help small businesses reduce emissions, Bill Droessler, program development officer with Environmental Initiative, told BMTN. 
"The reality is we are facing greater climate extremes than ever before – more violent storms, heat waves, and fires. That's true here in Minnesota and across the world. That's the bad news. The good news is there are a variety of efforts already underway - like the City of Minneapolis Green Cost Share Program and Ramsey County's Business Pollution Prevention Program – that help small businesses proactively reduce emissions. We need more investment in them and more programs like them, statewide," Droessler said. 
The Environmental Initiative is based in Minneapolis and has a mission to "Catalyze collaboration across perspectives, power, and systems for social equity and environmental health."
For more ideas from the nonprofit on how we can work to prevent the effects of climate change, click here. 
— Encourage your cities to develop sustainability commissions, says Liz Deering, communications director of Conservation Minnesota.
"Residents can petition city councils and mayors to become Green Step Cities and/or develop a sustainability commission to advise the council on local conservation and climate-minded initiatives," Deering said. 
Conservation Minnesota works to solve conservation problems that matter to Minnesotans. 
— Everything you see can be improved to reduce the impact on the climate, Goodspeed of Climate Generation said. She explains further:
"Locally: look around you, someone is in charge of each street lamp, every tree in your park, every book in your library, every drop in your drain, all of these can be made more resilient to climate change and reduce our climate impact: teach about climate justice in your schools so that students grow up prepared to lead; trees can cool surrounding buildings, infiltrate runoff, and make streets safer; save utility costs with solar on buildings and streetlights with public EV charging stations; improve safe biking and public transit routes and access, etc."
At the state level
Clean energy, across the board, was the topic nonprofits and activists say people should contact their state lawmakers about. 
— Pass the Path to 100% Clean Energy bill is something Deering of Conservation Minnesota says will make a difference. 
"If Minnesotans are interested in taking action to address climate change at the state level, they should contact their legislators and ask them to pass state policies to put us on a path to 100% clean energy," Deering said. "The Minnesota state legislature did take several important clean energy actions during the 2021 legislative session, most notably passing the Energy Conservation & Optimization (ECO) Act. We hadn't seen such strong clean energy policies since the bipartisan efforts to pass the Next Generation Energy Act in 2007. But they did not pass Gov. Tim Walz's Path to 100% clean energy or legislation designed to reach 100% clean energy by 2040, only the house voted on such a bill," Deering added. 
— Encourage policies that resonate with you, Goodspeed of Climate Generation said. 
"In Minnesota, there are climate policies advancing across issue areas that may resonate with you — 100% clean energy, land use like climate-friendly farming, prairie restoration or reforestation, environmental justice to reduce pollutants and disparities in vulnerability, invest in clean transportation like electric school buses/public transit and EV infrastructure, public safety to protect our right to protest, and of course climate justice education," Goodspeed said. "Redistricting and voting rights are critical so that our voices are represented by decision-makers who listen to our demands for climate action."
— Pass the Next Generation Climate Act, other clean energy bills, Aaron Klemz, chief strategy officer at the Minnesota Center for Environmental Advocacy, told Bring Me The News. 
Klemz said the Next Generation Climate Act "would update Minnesota's greenhouse gas pollution reduction targets to match the international scientific consensus on what reductions are needed to avoid the worst impacts of climate change."
The Minnesota Center for Environmental Advocacy also supports the 100% Clean Energy bill, which "would require utilities in Minnesota to use 100% carbon-free electricity by 2040," Klemz added. 
Minnesota Center for Environmental Advocacy, the nonprofit's mission is to "use law and science to protect Minnesota's environment, its natural resources, and the health of its people."
At the national level
At the national level, local organizations have stressed the importance of a few bills and encourage Minnesotans to contact their representatives and senators in U.S. Congress about them. 
— Show support for the Clean Energy Payment Program, Klemz of Minnesota Center for Environmental Advocacy says. 
"The Clean Energy Payment Program (CEPP) is an initiative in the reconciliation bill that would pay utilities to adopt clean energy faster. It's led by Minnesota Sen. Tina Smith and would dramatically speed adoption of clean electricity nationwide," Klemz said. 
The Clean Energy Payment Program is included in the Build Back Better Act. 
— Show support for the Build Back Better Act, Deering of Conservation Minnesota said. 
"The greatest, once-in-a-generation opportunity to impact climate change at the scale the crisis demands is Congress' Build Back Better Act," Deering said. "Included in the bill are provisions for transformational investments in clean energy, job, and justice."
It would be considered the most significant action ever taken by Congress to tackle climate change, with Deering noting that some of the key measures in the $3.5 trillion bill are: 
Sen. Smith's Clean Electricity Payment Program, which has a goal of reaching 80% clean energy nationwide by 2030, Deering said. 
Putting the U.S. on a path to 100% clean electricity, with a goal to cut emissions by at least 50% by 2030, powering everything from our electricity grid, transportation, and buildings with reliable, affordable clean energy. 
Promoting equity by ensuring at least 40% of benefits go to communities who need it most, prioritizing just and equitable solutions led by the low-income and communities of color most harmed by toxic pollution and climate change.
Incentivizing "high-quality, good-paying union jobs," especially in the domestic clean energy and manufacturing sectors, while supporting communities historically reliant on oil, gas, and coal jobs.
Extending clean energy and electric vehicle tax credits.
Deering notes the U.S. House of Representatives is working on the final details of the bill and must vote on a package by Monday, Sept. 27. It would then move onto the Senate. 
Minnesotans should contact their Congresspeople and "demand the strongest climate policies are included in the bill. Groups across the country are activating citizens ahead of the Monday deadline," Deering said. 
One way you can contact your Congresspeople is to text "CLIMATEBILL" to 877877 to call their representative. there's also an online petition available on Conservation Minnesota's website, Deering explained. 
— Show support for the infrastructure bill, Goodspeed of Climate Generation said. 
"Similar actions and issues from local- and state-level intersections apply here, but themes like the infrastructure bill will make major climate investments in energy, schools, buildings and roads, and jobs for people to do this work. Green New Deal goals are reflected in many bills, and to engage with the revitalized leadership across the government agencies as well that are committed to investing in frontline communities through Justice40, and advisors connecting with communities like the White House Environmental Justice Advisory Council and ACE Focal Point," Goodspeed said.