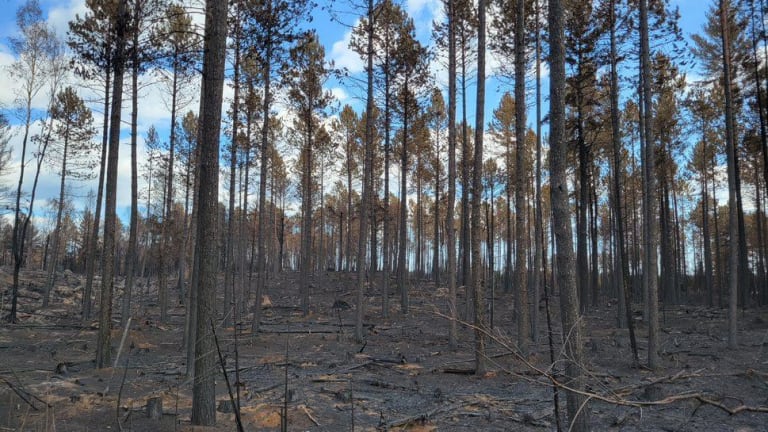 The latest on the Greenwood, John Ek and Whelp fires in northern Minnesota
The Greenwood Fire remains the largest at 26,089 acres.
Greenwood Fire
The Greenwood Fire, which was sparked by lightning on Aug. 15, has burned 26,089 acres, generally between Greenwood Lake and the intersections of Highway 1 and 2. It is 37% contained.
Fire officials say favorable weather and firefighter efforts have "greatly diminished" the threat to cabins, homes and recreational sites in the area. Fourteen primary structures and 57 outbuildings were destroyed on Aug. 23.
Planning Operations Section Chief Mike Behrens said on Friday they're really just seeing creeping and smoldering from the fire, "no active flames," thanks to the recent wet weather but there's still "quite a bit of heat" in the area and fire crews are working to mop it up.
On Friday, Lake County Sheriff's Office reopened the closed and evacuated section of Highway 2, between Forest Highway 11 and Highway 1 to home and cabin owners in the Greenwood Lake, Sand Lake and Dunka River Road areas. Only people with checkpoint passes are allowed in the area to limit traffic for firefighter safety.
A community meeting on the Greenwood Fire is planned for 6 p.m. Friday at the Wolf Ridge Environmental Learning Center in Finland. It will also be live-streamed.
John Ek and Whelp fires
The John Ek and Whelp fires were discovered Aug. 18 after a lightning strike:
The John Ek fire has burned about 1,350 acres and is about 2.5 miles south of Little Saganaga Lake and extends from John Ek Lake to the SE corner of Elton Lake. It is 0% contained.
The nearby Whelp Fire is 50 acres about 5 miles northwest of Sawbill Lake. It is 0% contained.
Fire officials say there is creeping and smoldering, but overall there is minimal fire behavior. With the John Ek fire, crews have been setting up sprinkler systems and improving portages, including widening portages to serve as a contingency line on the north side of the fire from Ogishkemuncie Lake to Tuscarora Lake.
Crews have also begun working on structure protection on the south side of Gunflint Trail from Poplar Lake to Round Lake and Tuscarora Lodge
Fire crews are also constructing a contingency line on the south side of the Whelp Fire, from Phoebe Lake to Sawbill Campground and are monitoring the fire by air.
Wet weather and cooler temperatures have helped moderate fire behavior. This has prompted the Cook County Sheriff's Office to change the evacuation status of the upper Gunflint Trail, from the south side of Loon Lake west to the end of the Trail, back to "ready" status. There are no mandatory evacuations in Cook County.
Fire managers will host a public meeting on the John Ek and Whelp fires at 3 p.m. Saturday at the Gunflint Trail Fire Department. Video of the meeting will be posted to Facebook after the meeting due to unreliable internet that prevents them from streaming it live.