Turkey smashes through SUV's windshield on Interstate 94 in northwest Minnesota
The driver suffered minor cuts in the crash.
A driver in northwest Minnesota avoided serious injury Wednesday when a turkey smashed through her windshield as she was driving on Interstate 94. 
Barnseville Police Department was among the law enforcement agencies that responded to an injury accident on I-94 in Clay County on a report of a "vehicle vs. a turkey." 
Fortunately, the driver of the SUV only suffered minor cuts from glass after the turkey smashed through the driver's side of the windshield. The turkey, which ended up in the back seat of the vehicle, did not survive. 
Police issued a release on Facebook saying it could have been a "devastating crash," but the driver was in good spirits and able to find some humor in the situation. 
So did the Barnesville cops with this pun-laden addition to the story: 
"With permission from the driver, we gobbled up a few pictures of this fowl incident to share how devastating it can be to collide with one of these birds. Not to peck the issue to death, but we really stress to drive slow and watch for animals. It can really ruffle your feathers to have this much damage done to your vehicle."
Here's a look at more photos from the crash.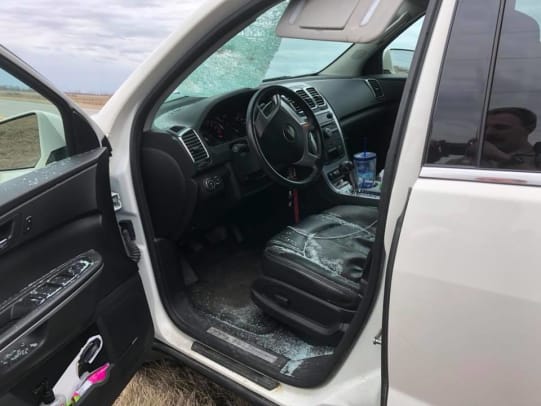 The police department noted that many wildlife are in their breeding seasons right now, and as a result they might not be cautious as they normally are.