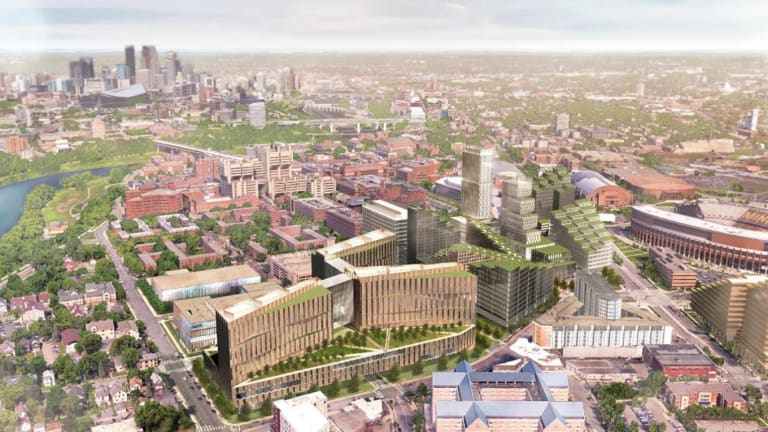 U of M bids to regain ownership of Twin Cities healthcare facilities, build billion-dollar hospital
The proposal comes as Fairview is planning to merge with Sanford.
The University of Minnesota is seeking to regain ownership control of its healthcare facilities and build a new, billion-dollar medical center on its Twin Cities campus.
The "MPact Health Care Innovation vision" sets out a path for the University to regain ownership and governing rights to its University of Minnesota Medical Center teaching hospital, the Masonic Children's Hospital, and the Clinics and Surgery Center from Fairview Health Services.
Fairview Health took ownership of the University of Minnesota Medical Center in 1997. It has a contract until 2026 with the U of M on the healthcare partnership known as M Health Fairview.
On Thursday, President Joan Gabel said she is calling on state lawmakers, Gov. Tim Walz and Attorney General Keith Ellison to approve shifting its facilities back to university control, as well as revealing plans to build a new medical center on its East Bank campus that would cost at least $1 billion.
One of the catalysts for the move appears to be Fairview's ongoing plans to merge with South Dakota-based Sanford Health, which has has faced some criticism from hospital staff, unions and legislators.
Gabel laid out the five points of the initiative during a news conference Thursday:
World Class Academic Health System: Ensuring that Minnesotans have access to a first-rate academic health system, bringing them the benefits of integrated research, teaching and top-level care.
University Governance and Control: The university is looking to own, govern and control its flagship facilities.
Opportunities for Strategic Partnerships: Further look into establishing partnerships with other health systems, noting it's essential 
New State-of-the-Art Hospital: The health facility would move "clinical and academic medicine forward for the next 50 to 100 years," according to the university. Officials have been acquiring land for the investment and planning and construction is expected to take five years or longer.
Investment in Current Facilities: Officials are looking to "bridge" the "present to future" to help with a transition to the new facility.
"We know health care is changing rapidly along with the needs and expectations of patients at home and around the globe," said Gabel. 
"With great inspiration from Minnesota and with insights from University researchers, faculty, physicians and health care professionals, the MPact Health Care Innovation vision is a once-in-a-lifetime opportunity to channel our unique ability to elevate our state, improve the lives of all Minnesotans and position Minnesota as a global leader for the next century."
Officials at the U of M are calling "for short- and long-term partnership from elected leaders" to help it reacquire the health properties and build the new facility.
"Seven of the top 10 hospitals in the U.S. are directly associated with a medical school because that's how you improve care quickly. You streamline the process of bringing groundbreaking therapies to patients. You improve the practice of medicine by changing it in real time," said Jakub Tolar, dean of the university's medical school and vice president for clinical affairs. 
"We want these benefits for Minnesota and to serve Minnesotans in ways that only a hospital associated with a leading research university can."
The Star Tribune reported that Fairview has said the university can still negotiate to repurchase the University of Minnesota Medical Center provided fair market value is agreed upon, but university officials argue this is not required as per the acquisition agreement struck with Fairview in 1997.
Concern over Sanford merger
A listening session held by Ellison Tuesday night in St. Paul featured an array of pushback against the Fairview-Sanford merger from health care workers and unions. President of AFL-CIO Bernie Burnham said the merger "only benefits wealthy CEOs and the corporate bottom line — not workers or patients."
Others shared their concerns for gaps in labor and management, with one health care worker pointing out Sanford's CEO massive payouts and how mental health patients would be impacted negatively. The Argus Leader previously reported former Sanford CEO Kelby Krabbenhoft received a $49 million severance payout in 2020.
Sanford Health serves more than one million patients across 47 medical centers, after a period in which it has aggressively expanded across the Dakotas and western Minnesota. Fairview Health Services includes more than 31,000 employees across 11 hospitals and more than 80 outpatient clinics, with most of its locations in the Twin Cities metro.
Three other meetings scheduled by Ellison's office are planned to be held in January regarding the merger to continue hear feedback from the public. The other meetings will be held on Jan. 17 in Bemidji; Jan. 25 in Worthington; and wrap up in Grand Rapids on Jan. 31.
State regulators will need to sign off on the final deal, which is expected to close sometime in 2023.
Bring Me The News reached out to Ellison's and Walz's office for comment on Thursday.