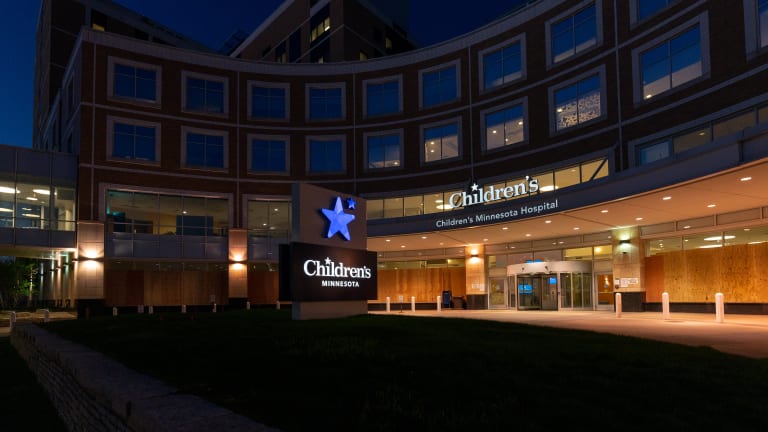 Unseasonable RSV, COVID-19 continue to 'stretch capacity at the Children's Minnesota hospitals'
Health experts expect things to become even more active with kids returning to school.
The combination of respiratory syncytial virus (RSV) and COVID-19 has pushed Children's Hospital in Minneapolis and St. Paul to near capacity, though the renowned healthcare institution says it remains ready to provide care for children and families. 
The chart below shows a surge of RSV positive tests (light blue bars) in the past month, with the respiratory illness essentially exploding in early August after sitting mostly dormant during the height of the COVID-19 pandemic last fall and winter. 
"There are no signs yet that the summer surge of respiratory illnesses, like RSV, is slowing at Children's Minnesota. It continues to stretch capacity at the Children's Minnesota hospitals in St. Paul and Minneapolis," a spokesperson from Children's Minnesota told Bring Me The News on Friday. 
"We are also treating the most severe cases of COVID-19 in children in the state, averaging five to eight patients at any given time over the last month. Though that figure appears low, when capacity is already stretched that is enough to put additional strain on our frontline staff."
The spokesperson said Children's Minnesota is running at "close to 95% capacity, the highest the hospital system has seen the entire pandemic." 
It's rare for RSV and other respiratory illnesses to be impacting masses of children during the summer, whereas it is typically most common during the winter. Dr. Rob Sicoli, medical director of the emergency departments at Children's Minnesota, speculated in August that the surge in RSV may be tied to the easing of public health guidelines and mandates. 
RSV is most common in children ages 3 and younger. Symptoms include cough, nasal congestion and drainage, fever, fast breathing, wheezing, difficulty breathing and irritability or lethargy. 
The end of the RSV and COVID-19 increases in Minnesota isn't within sight at the moment. In fact, experts are bracing for even bigger increases as kids return to schools, many of which are not mandating masks. 
"I think there is a likelihood that we will have an increase in transmission," said Dr. Abinash Virk, infectious disease expert at the Mayo Clinic, when asked about students returning to schools. She is also anticipating a more active flu season due to eased public health and masking guidelines. 
"Yes, I think last year ... there was almost no influenza because we were all masking and we were all being very careful," said Dr. Virk. "We will see an increase in influenza. Definitely higher than last year." 
Regardless of the strain healthcare workers are facing, the spokesperson from Children's Minnesota said they remain "prepared to promptly care for kids and families in the region."