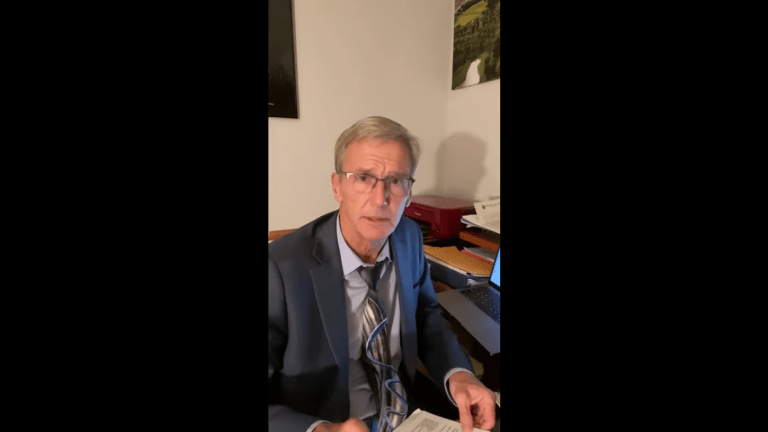 Vaccine-skeptic gubernatorial candidate wants 'civil disobedience' over COVID requirements
"Meet the moment with me," Dr. Scott Jensen told supporters in a video Friday.
A Republican gubernatorial candidate who has increasingly aligned himself with the anti-vaxxer movement is calling for "civil disobedience" in response to the White House's newly announced COVID vaccine and testing rules.
Dr. Scott Jensen, a Republican former state senator from Chaska, put out a news release and YouTube video very early Friday, decrying the COVID mitigation measures detailed by President Joe Biden hours earlier. The new rule, which has yet to go into effect, would require large employers to ensure employees are either vaccinated against COVID-19, or are tested weekly for the deadly and highly-contagious virus.
Jensen, a family physician, described the new rules as "tyrannical mandates," and said he's actively writing a bill that would make Minnesota a "Health Freedom Sanctuary State." It would outlaw vaccine passports, lockdowns and "kids in masks," he explains in the video.
"Until this happens, Dr. Jensen encourages ALL Minnesota citizens and businesses to participate in civil disobedience and not abide by these activities 'mandated' by the bureaucratic tyrants in Washington, DC.," his campaign's news release says.
"We must stand up and write the bill," Jensen insists in the video, adding: "Please. Meet the moment with me. Nothing matters as much as this does, throughout this whole pandemic. We have to wake up."
Jensen, on his website, emphasizes the importance of adhering to the law. One of his key issues earlier this year was titled "Enforce the Law. Protect Minnesotans" (though that section has been renamed to "We Must Address Minnesota's Crime Epidemic") and focused mainly on crime in cities, including decrying last summer's civil disobedience and rioting in the Twin Cities.
The family physician also promises to make decisions "based on science." 
In May, he signed on to – and later removed himself from – a lawsuit filed by a group whose leader is charged in connection with the Capitol Insurrection that sought to block COVID vaccines for children. Clinical trials and studies to this point have found no established, regular links between health issues and the vaccines in children.
He has defended and promoted the use of hydroxychloroquine and ivermectin for treating COVID-19. Neither of which has been approved as a treatment for the virus and health officials are urging against their use, with the use of ivermectin bought from pet stores leading to a spike in poisoning reports in parts of the country. 
He was banned by TikTok and blocked from advertising on Facebook for spreading misinformation about COVID-19 vaccines. 
In Friday's video, he asks why "natural immunity" (meaning, becoming infected with COVID-19, surviving and relying on those antibodies) is being ignored, despite being "far more effective" than vaccines. Some studies suggest that may be the case, other studies suggest his claim is untrue. But neither option is 100% foolproof, and natural immunity requires getting a COVID infection, which could result in hospitalization, death or "Long COVID" symptoms.
He has appeared more than once at events featuring members of the anti-vaxxer community, and was a frequent guests on podcasts, including one hosted by a person with no medical training who suggested people purposefully expose themselves to COVID. 
Jensen previously told the Pioneer Press he is not vaccinated against COVID-19 himself, and does not recommend the vaccination for about one-third of his patients who are young and healthy. However, young and healthy people are still at risk of being hospitalized, dying, or having potentially long-term health problems if the contract the virus – and can spread it to more vulnerable people.
A spokesperson for Jensen told Salon in July the doctor is not against vaccines, but that it is "important to scrutinize and access all the data."
The recent surge in COVID cases is clogging intensive care units and pushing out others who may need help. And children are becoming infected at an increasing rate, leading to more child hospitalizations and in some cases, deaths. The states with the lowest vaccination rates account for much of this spike, data compiled by the New York Times say.
"We are seeing an intrusion into American rights," Jensen says in his Friday video, referencing Biden's new measures. "This is not about science."
The CDC Friday released research showing unvaccinated individuals are 11 times more likely to die from COVID than a person who is vaccinated.