Vandals run rampant in overnight incident at central Minnesota golf course
It's the third time the course has been targeted by vandals.
Vandals caused significant damage in an overnight incident at Kimball Golf Club in central Minnesota. 
Last Sunday, June 7, a groundskeeper arrived at the golf course located south of St. Cloud to find several golf carts, a long stretch of wood fencing and some greens damaged. 
According to the Stearns County Sheriff's Office, a deputy arrived at the course and reviewed security video that showed "several males" near the clubhouse around 1:30 a.m., with the video then showing them drive away in four golf carts. 
"They decided to do some aggressive driving on the greens at hole 2 and hole 3, and drove the carts into the fence," Captain Jon Lentz wrote in a weekly newsletter from the sheriff's office. 
Authorities believe the golf carts were damaged when they were pushed down a hill. 
Kimball Golf Club vandalism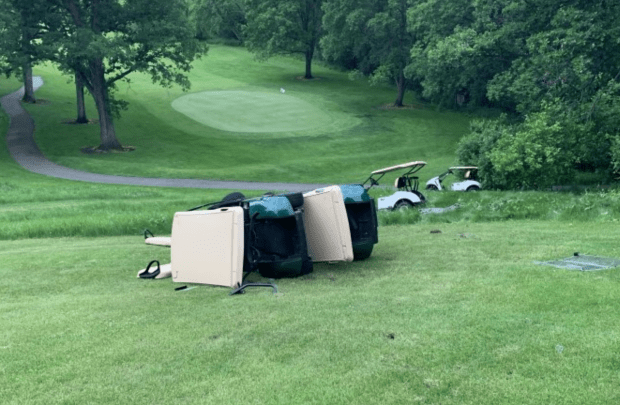 The golf course manager told Tri-County News that total damages could be in excess of $35,000. Tri-County News noted that Kimball Golf Club was vandalized in similar attacks in 2015 and 2016, which prompted management to install security cameras. 
Anyone who can help the sheriff's office identify the vandals or provide information about the incident is asked to call 320-251-4240.