Video, pictures show astonishing river surges near Duluth
The Nemadji River has risen more than 20 feet.
Flash flooding from extreme rainfall totals in northeast Minnesota and northwest Wisconsin have forced extensive road closures, and Douglas County to declare a State of Emergency and issue no travel advisories for the entire county. 
Douglas County is located directly south of Duluth and includes the City of Superior, where the south side of the city has seen the Nemadji River make an astonishing rise from 5.53 feet at midnight June 16 to just above 30 feet at 8 p.m. Sunday, more than two feet higher than the previous record. 
It rose an unbelievable 22 feet, from 8 feet to 30 feet, in a 15-hour time period on Sunday. 
Portions of northwest Wisconsin received nearly a foot of rain over the weekend as storms trained over the same locations Saturday and Sunday. 
These photos shared by the Duluth office of the National Weather Service show the Nemadji River at 4 p.m. Saturday and 4 p.m. Sunday. 
To the east of the Nemadji River is the Amnicon River, which has turned a peaceful, scenic Amnicon Falls State Park into a potentially deadly area that's been closed down due to extreme flash flooding, some of which was captured on video by Kelly Campy on Sunday. 
Subscribe: Free BMTN newsletter to receive each day's top stories via email. 
Scroll through the photos provided to BMTN by Kelly Campy to see how dangerous the rushing water looks, and then have a look through the 15-minute video to see how wild the rapids get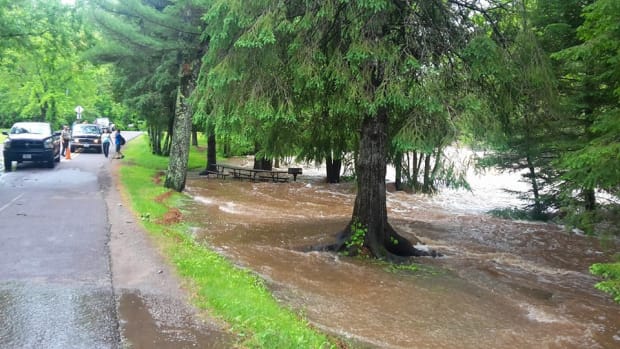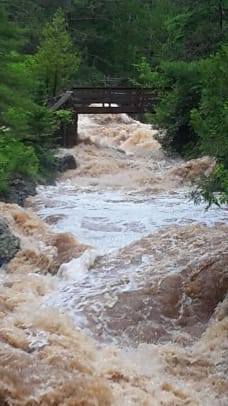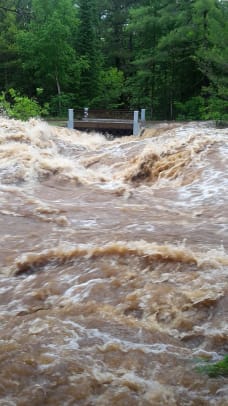 Here's a map of all the road closures flooding has created in Douglas County, Wisconsin.