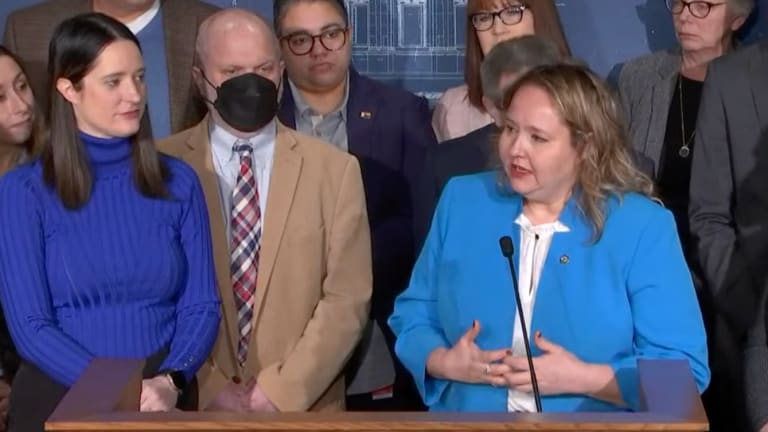 Voting rights bill proposed by Minnesota DFL 2 years after Capitol attack
In all, 35 DFL legislators have co-signed the bill introduced on Friday.
Minnesota DFL House and Senate legislators outlined an expansive voting rights bill on Friday, two years since rioters attacked the U.S. Capitol over unfounded voter fraud claims in the 2020 presidential election.
The legislation would restore voter rights for those charged with felony-level crimes after leaving prison, automatic voter registration, pre-registration for 16-17 year olds, and give all Minnesotans the choice of voting by mail by joining a permanent  absentee ballot list.
The bill, titled "Democracy for the People Act," is authored by Rep. Emma Greenman (DFL-Minneapolis) and Sen. Lindsey Port (DFL-Burnsville). Numerous times throughout the press conference held on Friday, legislators used the term "multi-racial democracy" to reflect how the bill reflects every Minnesotan.
The legislation seeks to "protect and strengthen the freedom to vote, amplify the power of Minnesotans by reducing the influence of dark money and corporations in politics, and ensure that our democracy is far, inclusive, and responsive to the needs of Minnesotans across the state."
"This is a critical moment for our democracy," said Greenman in a statement. "We know that solving our most significant challenges requires all of us to come together and build a democracy that centers the voices of all Minnesotans. Minnesotans gave us a mandate to act with urgency to protect and strengthen our democracy and that is what this legislation does."

"We've seen [since Jan. 6] that an attack on voting rights has not stopped," Greenman added. Greenman has worked as a national voting rights lawyer prior to being sworn into the state legislature in 2021.
Senate Majority Leader Kari Dziedzic (DFL-Minneapolis) reiterated how the DFL-controlled House and Senate will stay "united" in fighting for democracy going forward.
"Minnesotans sent us here to protect and expand democracy. It's one of the reasons the House and Senate DFL are united in defending democracy a top priority this session," Dziedzic said.
The bill also features a campaign finance reform, which is "very sorely overdue" in the state, according to Rep. Port. Greenman added that the system in place hasn't been updated for about "three to four decades."
"We really need a campaign finance system, a disclosure system, a public financing system that actually reflects the way that candidates are running elections and how voters participate," Greenman said.  
However, state GOP legislators such as House Minority Leader Lisa Demuth (R-Cold Spring) and Senate Minority Leader Mark Johnson (R-East Grand Forks) called the list of DFL priorities released on Wednesday "controversial and divisive."
"Rather than getting to work on balancing the budget and giving the massive surplus back to the people, they are rushing through their own top priorities without bipartisan support," they said in a joint statement. 
When asked if the bill has received bipartisan support, Sen. Jim Carlson (DFL-Eagan) said "that's the goal" but "we're not going to have that as a strict line," noting Gov. Tim Walz has been in contact regarding the legislation. 
The full legislation can be viewed here.
A DFL press conference held on Friday can be watched below on YouTube.