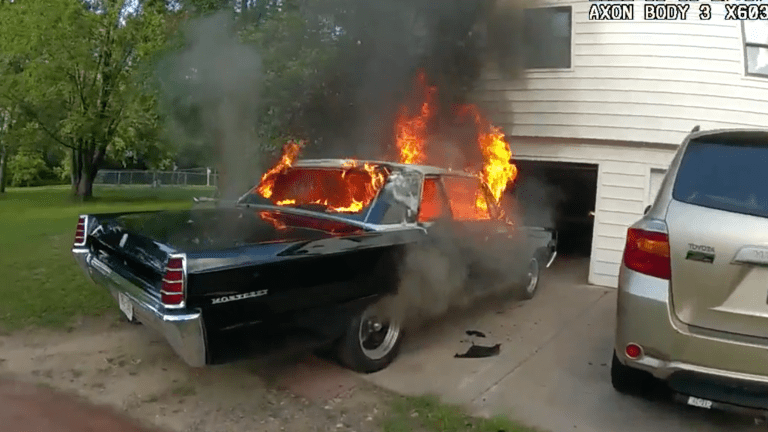 Watch: Deputy springs to action as classic car burns near house
It was a race against time as the flames neared the house.
A classic car that burst into flames while parked next to a house in Chisago County was towed away before the fire was able to spread to the home – all thanks to the quick thinking of a Chisago County sheriff's deputy. 
The deputy leaped into action after arriving at the scene on the 15000 block of Per Road in Center City. His body camera recorded the incident, and it shows him running towards the car with a fire extinguisher and asking a man at the scene if he had a tow strap. 
The man did, so they quickly hooked the strap to the bumper of what appears to be a 1960s-style Mercury Monterey. The deputy, identified only Deputy Finnegan, then runs to his squad vehicle, backs up to get hooked up, and pulls the vehicle away from the home. 
Deputy Finnegan was calm throughout the process, which may have had a little something to do with the classical music he had playing on his squad vehicle radio. 
"What does a vehicle on fire, a tow strap and classical music have in common? Deputy Finnegan can answer that one!" the sheriff's office joked on Facebook. "If you know Deputy Finnegan, you know he has a unique taste in music."