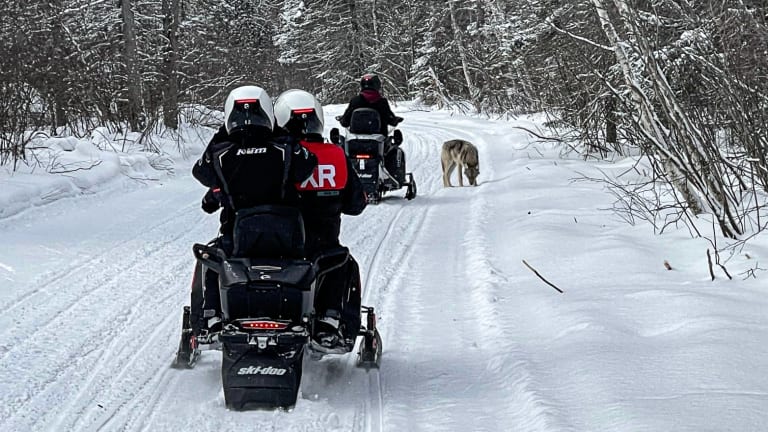 Wolf exhibits 'extremely abnormal' behavior, approaches MN snowmobilers
The wolf got within 5 feet of a group of snowmobilers.
Scientists with the Voyageurs Wolf Project are warning people about a wolf that has been exhibiting "extremely abnormal" behavior in northeastern Minnesota. 
The wolf just south of Voyageurs National Park in the Ash River area a few days ago walked within about 5 feet of a group of snowmobilers on a groomed trail, Voyageurs Wolf Project said in a Facebook post on Wednesday.  
"The wolf seemed unalarmed, did not appear to exhibit fear of people or the snowmobiles, and just sauntered/lingered in the area," the post said, adding: "This is extremely abnormal behavior and folks should exercise caution if they encounter this wolf."
Scientists said they don't know anything about the wolf beyond what they were told but they wanted to make sure people in the area are aware. 
"If you do happen to see a wolf acting like this, do not approach it even if it seems docile and friendly, and certainly do not feed the animal." the post said. 
Although the wolf hasn't shown any signs of aggression, as far as Voyageurs Wolf Project has been told, "It is a wild wolf, and wolves that have become this comfortable around people can be unpredictable."
Dan Stark of the Minnesota DNR told Bring Me The News there was another report of a wolf in the Ash River area from a driver on a nearby highway that said the wolf didn't leave the highway as they drove by. 
"It's important to remember that many people live and recreate in areas with wolves. Commonly wolves may pass through these areas without our knowledge because most animals are secretive and avoid human activity," Stark said. 
During the winter, especially when there's deep snow, trails and roads are easier for wolves to travel, so they use them to move around their territory, Stark explained. 
Typically, if people encounter wolves the wolf will leave and avoid people. However, sometimes a wolf can develop behavior that makes them more comfortable so they don't retreat. 
"Although these incidents are pretty rare, there may be some contributing factors that lead to wolves developing this behavior," Stark said. "Habituated wolves are 'comfortable' around people and tolerate close approaches by people."
In most incidents, this can happen when people feed wolves and don't have a negative interaction. Stark says, "Wolves can quickly learn that human activity can be a source of food if allowed (direct feeding, garbage, or pet food). This results in their natural inhibitions to relax and they become more comfortable around areas of human activity."
To avoid interactions with wolves, the DNR recommends: 
If you see a wolf, don't stop — proceed with caution and move through the area
Do not feed wolves
Observe the wild animals from a distance, don't approach them.
Stay close together with your group and keep pets close and on a leash
Use an air horn or other loud noise
Anyone who spots this wolf is asked to call the area wildlife office of the Minnesota DNR at 218-757-3274.