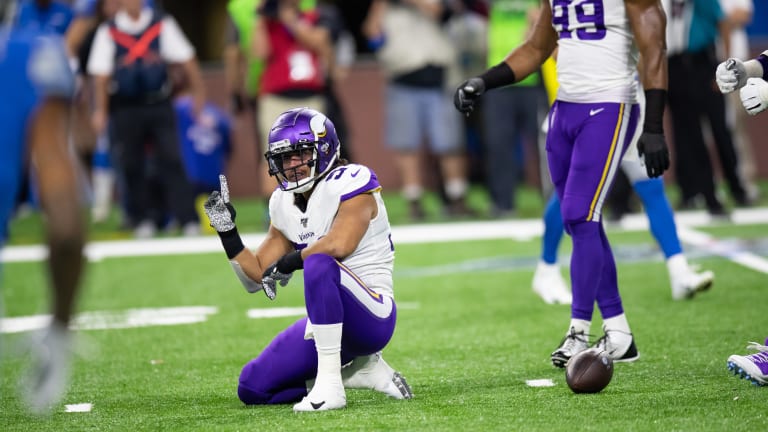 Coller: Do Week 2 must-wins exist? We're going to find out
It's prove-it time for the Vikings.
Matthew Coller is a published author and football writer who covers the Vikings. He also writes a weekly Vikings column for Bring Me The News, in addition to hosting a livestream on the Bring Me The News YouTube and Facebook pages every Tuesday. You can find more of his work at Purple Insider.
With 17 games in the NFL regular season now, it doesn't feel like an 0-2 start should doom anyone's season but historically it's more or less a sign that things aren't going to go your way.
Since 2000, the Vikings have gone 0-2 eight times. Take a close look at these seasons: 2020, 2013, 2011, 2010, 2008, 2005, 2002, 2001. Now, without Googling it, can you spot the one time that they made the postseason?
Thanks to Gus Frerotte, the Vikings snapped back in 2008 and made the playoffs. They missed the seven other times, including a few years in which they had high expectations.
Most final records look pretty rough when teams drop their first two contests. Using a handy tool at Pro-Football Reference, we find that 179 teams have gone 0-2 since 2000. The average finishing record of those clubs was 6-10 and only 17 of them (9.5%) made the playoffs. Seven of them won more than 10 games.
The math here is a little different now but if the Vikings melt in the desert this week when they face the Arizona Cardinals, it'll feel like a long slog across miles of rough ground to get to the nearest oasis (that being Week 5 against Detroit, who's always there to offer the Vikings water when they're thirsty for a win). The Vikings have games against Seattle and Cleveland in Weeks 3 and 4, neither of which will be a cruise along the Mississippi.
At first glance when the schedule came out, Arizona looked like a pretty nice pull for a follow up to Cincinnati. The Cards haven't been good since Carson Palmer was heaving balls to Larry Fitz in 2015. But the Cards stomped the tar (yes, this is an Oilers reference) out of the Tennessee Titans in Week 1.
The Cards won their game in the scariest fashion possible for the Vikings. They got five sacks out of human werewolf Chandler Jones and a Mahomes-ian performance from QB Kyler Murray.
The Vikings already struggled against a team with a good defensive line and exciting young quarterback with weapons on the road in their 27-24 loss to the Bengals on Sunday. Now they'll be tasked with beating a better version.
But beating the Cardinals isn't just important because history is unkind to those who start 0-2. It's just as much about how it would feel to lose back-to-back games from the outset of a season with expectations and pressure.
After the loss to Cincy, a Twitter follower made the point that last Sunday wasn't Week 1, it was Week 49. Over the last three years, they've run into the same pitfalls over and over. That Cincy game has happened a half dozen times. Was it Deja Vu from Week 2 in 2018 against the Packers? Or Week 9 of 2019 against the Chiefs? Or last season against Tennessee, Seattle, Dallas and Chicago?
At some point -- for the sake of the sanity of Vikings fans and for the futures of everybody involved -- the Vikings have to win an important game. Out of those 49 weeks, we can count far more that ended in disappointment than triumph.
There needs to be signs that it's different this year.
"I had one of the defensive players in my office today, he actually came to see me, he said, 'I think we can really be good,'" head coach Mike Zimmer said. "But we can't be second-and-20 and we've got to be smart in these situations. It all comes down to that. I have the same feeling. I think we can be good, but we've got to go out and show it."
We've reached the point that it's time to prove it.
While that doesn't rest entirely on this weekend's game in the Southwest, a road win against a talented team would go a long way toward making 2021 a meaningful season. If they come up short, it's not over, but the road to becoming a contender becomes much tougher.
So the question becomes: What can change when we've seen this movie before?
There's a few possible answers here. After one week, it's hard to say exactly how good the Vikings' defense can be. The Bengals hit on several big plays that undid a largely strong effort. 
With Michael Pierce looking strong in his first game, Danielle Hunter back in the mix and likely to get better as he goes and a good rotation that includes Everson Griffen and Sheldon Richardson focusing all their efforts on pass rushing, the defense has the potential to win a game on their own -- and they'll probably need to do so.
On the offensive side, KJ Osborn showed that he could emerge as the team's best No. 3 receiver in years. And it's unclear when Christian Darrisaw will be healthy but he could end up at left tackle sooner than later if he's a full-go soon. The Vikings' left and right guards were both starting for the first time at their new positions. There's potential for improvement.
But there isn't time to wait around for these things to come to fruition. No matter the NFC North standings, another loss would have a here-we-go-again feeling. That might be worse than the odds to make the playoffs after 0-2.