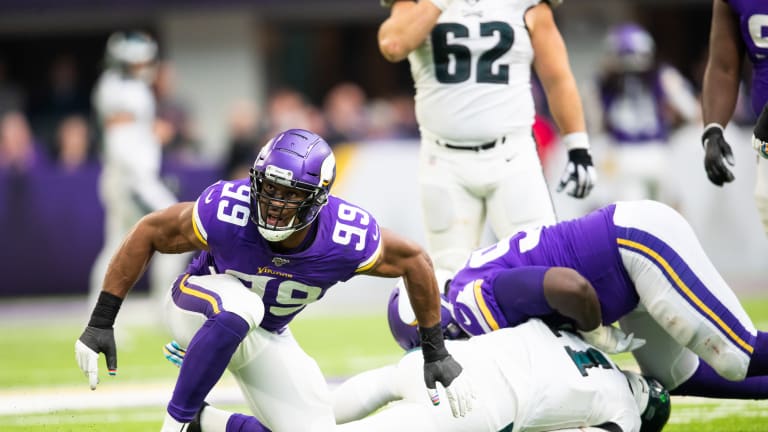 Coller: Let's talk about a Vikings football game
Read Matthew Coller's column every Thursday at Bring Me The News.
Matthew Coller is a published author and football writer who covers the Vikings. He also writes a weekly Vikings column for Bring Me The News, in addition to hosting a livestream on the Bring Me The News YouTube and Facebook pages every Tuesday. You can find more of his work at Purple Insider.
Is there someone in your life that's always talking about how they can't believe that such-and-such is already here?
Week 1 special offer for 25% off 12 months of Purple Insider
You know what I mean. Can you believe it's already fall? Can you believe the fair is over already? Can you believe kids are going back to school already? Snow already?
These people feel like life passes by too fast, right? Summer's too short, where did the time go?
You know what nobody ever says: Can you believe football season is here? That's because it's been a really, really, really long time since the Minnesota Vikings played meaningful football.
You know what was in the news the last time the Vikings played a game with the playoffs on the line? The new president was about to take office...in a month. People across the nation were doing their last-minute Christmas shopping. It was an unseasonably warm 38 degrees in Minnesota.
Oh and the Vikings' defense against the Bears included Jaleel Johnson, Shamar Stephen, someone named Todd Davis, a football player called Chris Jones, an alleged linebacker Hardy Nickerson Jr. and -- this is real -- defensive back Cordrea Tankersley.
Since then, we've had a lot happen. The Vikings added seven different starters on defense, lost a first-rounder to a domestic violence indictment, moved two former tackles to guard, lost a star-in-the-making tight end to injury and played some rotten preseason games.
And here we are, ready for an actual, true-to-life football game. Can you believe it?
Admittedly, it isn't one that the NFL is going to put on the marquee. The Vikings and Cincinnati Bengals are hardly rivals. In fact, the Bengals are hardly anybody's rival. But this game is actually kind of big for the Vikings.
After an eventful offseason that included rising tensions over COVID vaccinations and key injuries, the Vikings need something to bring everyone together. They have a fragile roster with, as head coach Mike Zimmer said, concerning depth issues. They have shown in recent years to have a fragile psyche at times as well. They've only beaten three teams with winning records over the last three seasons. On the flip side, the Vikings have lost to some Bengals-y opponents, most notably the 2018 Buffalo Bills and 2020 Atlanta Falcons.
In a way the Bengals are a good opponent to open the season. Their quarterback is coming off a catastrophic injury and they've revamped their offensive line, defensive line and secondary to the point where getting on the same page might be tough. They aren't projected to come within smelling distance of the playoffs or be a serious threat to their division opponents.
This one could be reminiscent of the Vikings' tail whooping of the Falcons at home that kicked off the 2019 season.
However, opening against a weak opponent does open the door for early frustrations and finger pointing if they don't come home from Cincinnati with a victory.
Sure this is only Week 1... but it's been a long time since we had any drama involving a real game so stay with me here.
There's some darn good matchups in this game, actually. Here's a few:
-- The Bengals' wide receivers are quite good while the Vikings are running out four new defensive back starters. Danielle Hunter is back from his 2020 neck injury and he'll be facing off with former Viking Riley Reiff.
-- Cincinnati's running back Joe Mixon had back-to-back 1,000-plus yard seasons in 2018 and 2019. New Vikings Michael Pierce and Dalvin Tomlinson will be tasked with stopping him.
-- Justin Jefferson's sophomore campaign begins against a team that he could possibly demolish, especially with former Viking Trae Waynes out and Eli Apple taking his place.
-- The Vikings have new offensive linemen at three positions and Cincinnati signed the top sack-man in the NFL last year. That should be an interesting matchup.
-- Joe Burrow is looking to bounce back right away from losing the second half of his season to injury. He'll have to do it against one of the best schemers in the NFL in Mike Zimmer.
"I was very impressed with him in the things he's done in the NFL," Zimmer said of Burrow. "He gets the ball out quick, he's very accurate, moves well in the pocket, very, very competitive, really good competitor, I think. You can tell all that stuff on last year's tape."
-- Patrick Peterson had a tough 2020 season. He'll be tested right away, whether that's against Tee Higgins, who had 67 catches last year, or Ja'Marr Chase, Cincy's reward for going 4-11-1 last year.

-- Heck, even the Vikings' kicking, punting and returning is interesting. Greg Joseph is a relatively unproven kicker who went through the entire preseason uncontested and the Vikings just signed punter Jordan Berry. Zimmer has expressed his appreciation for Ihmir Smith-Marsette as a returner, calling him "fearless."
-- There's fans back in the stands. That could be quite an adjustment for road teams that didn't see any opposing fans last year.
So while this game doesn't have the hype of Vikings-Packers from 2020, the Bengals offer some more compelling matchups than we might give them credit for at first glance.
And, hey, it's been a long time since there's been a football game that meant something, so soak it in.