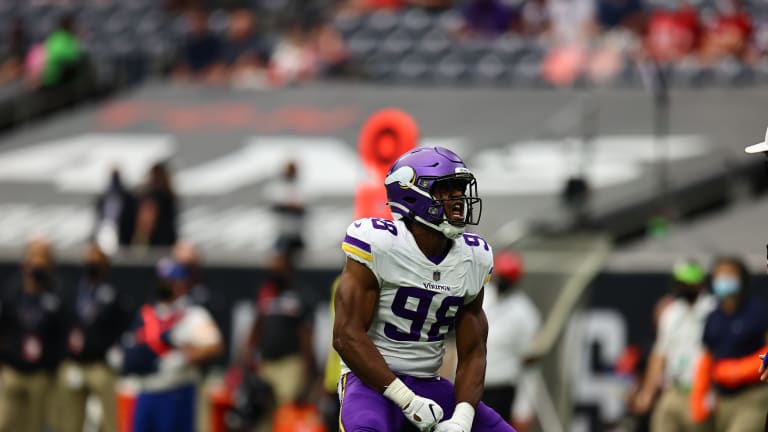 Coller: Someone unexpected must step up for the Vikings
Read Matthew Coller's column every Thursday at Bring Me The News.
Matthew Coller is a published author and football writer who covers the Vikings. He also writes a weekly Vikings column for Bring Me The News, in addition to hosting a livestream on the Bring Me The News YouTube and Facebook pages every Tuesday. You can find more of his work at Purple Insider.
One of the main themes of Minnesota Vikings preseason and training camp is that the team is full of good players but lacks the depth to sustain too many injuries.
Following the preseason finale against the Kansas City Chiefs, head coach Mike Zimmer preciently said that the team was going to be in trouble if the wrong players got hurt. Whether he knew it at the time or not, it turns out that one of the wrong players got hurt that night. Tight end Irv Smith Jr. was lost for the season due to meniscus surgery after suffering an injury on one of the 10 snaps he took against KC.
Now the Vikings are turning to Tyler Conklin, a 2018 fifth-round pick who has 32 career receptions. They also traded a fourth-round pick for Jets tight end Chris Herndon. He fell out of favor with New York after a solid rookie season in 2018 in which he gained over 500 yards.
The ironic part is that despite the very unfortunate injury to Smith, tight end is one of the few positions in which the Vikings have a player that can be mildly trusted in relief.
For example, if a cornerback gets hurt, the next man up is a seventh-rounder who gave up a 121 QB rating into his coverage last year. If a safety goes down, a converted corner with zero experience is on deck. If the QB misses a game, welcome back Sean Mannion (or welcome to the NFL Kellen Mond). If a receiver goes out, we'll see if Dede Westbrook's repaired ACL is ready to go. If a tackle goes down -- at least until Christian Darrisaw returns -- it's up to 2020 sixth-rounder Blake Brandel.
The NFL is full of teams that would be out of luck if their top players got hurt but the Vikings have seen much better depth days. In 2017, Brain Robison, Anthony Harris, Latavius Murray, Jerick McKinnon, Case Keenum, Jarius Wright and Rashod Hill started the year as backups. All of them were needed in order for the Vikings to reach the NFC Championship game.
There's no chance the Vikings go the rest of the season without having another starter go down, at least for some amount of time. That means that somebody will be called upon to step up.
If we look at the list of 2017 key fill-in players, there's a handful there who we didn't know were capable of holding down a role. Anthony Harris had been largely a special teamer and Rashod Hill, who played over 700 snaps in 2017, was an undrafted pickup off the Jaguars' practice squad in 2016. He ultimately took on Cameron Jordan in the Minneapolis Miracle game.
So who is that going to be for the 2021 Vikings?
There are some candidates. The first of which is second-year defensive end DJ Wonnum.
Wonnum, a fourth-round pick in 2020, saw more work than expected last year, seeing 471 snaps. He picked up three sacks and 22 pressures along the way but very much looked like a rookie. Now, even with the signing of Everson Griffen, Wonnum will have to step up in some capacity, whether that's starting and playing every down or being moved around in a situational role.
"I think he just gets better and better every day," co-defensive coordinator Andre Patterson said of Wonnum. "He's hungry. He wants to be really good. I think the biggest thing with DJ is that DJ's a playmaker and all three preseason games he made plays."
At receiver the Vikings may need to find something in either KJ Osborn or Ihmir Smith-Marsette. With Smith Jr. down, Zimmer mentioned using more three-receiver personnel groupings. If Westbrook isn't ready to step in Week 1 following a training camp in which he barely practiced, the two recent fifth-rounders will need to offer some threat.
Osborn shined in practice at times and Smith-Marsette showed some playmaking ability but neither was given much chance with poor quarterback play to stand out in the preseason.
And somebody needs to return punts effectively. The Vikings averaged 4.3 yards per return last year, dead last in the NFL.
Someone in the secondary will be called upon at some point. Whether that's Kris Boyd, who had a strong enough camp to take over the backup CB spot from Cam Dantzler, or rookie safety Cam Bynum. At linebacker Blake Lynch may have to play a vital role if Anthony Barr's injury is a sustained issue. Rookie guard Wyatt Davis may have to step in if there's an absence at guard.
At backup quarterback the Vikings decided to roll the dice with a third-round rookie and undrafted practice squad QB behind Kirk Cousins. They found themselves hunting at the last minute for another player who could handle the offense in a pinch in Mannion. While Cousins has a clean bill of health for six years running, we can never anticipate when an unfortunate break will happen or someone will end up on the COVID list. At some point, the career backup might have to be called upon.
Of course, we can't anticipate which depth players will end up getting the call but we can say that the best seasons have often been those in which the Vikings got strong performances from players who weren't expected to contribute Week 1. That will need to happen at some point in order for the 2021 Vikings to maximize their potential.