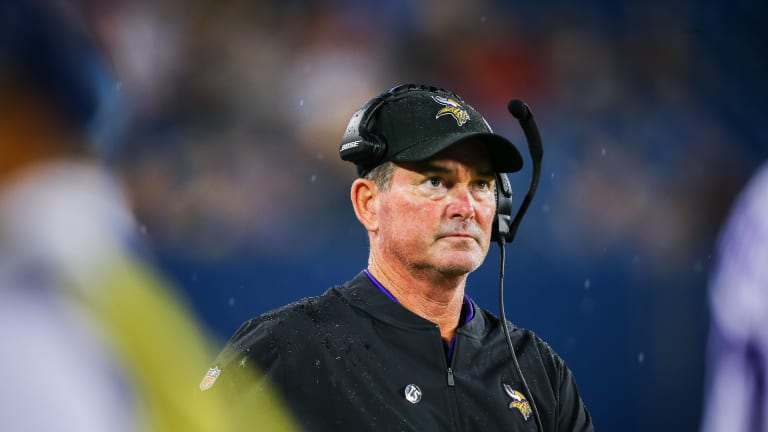 Does Mike Zimmer's coaching style mesh with the Vikings' strengths?
Time for Zimmer to put all of his faith in the offense and try to win shootouts?
Back-to-back gut-wrenching losses has the Vikings on the ropes with two power teams – Seattle and Cleveland – about to visit U.S. Bank Stadium, putting Minnesota on a potential crash course with an 0-4 start to the season. 
So what do they do? We'll find out, but in the armchair quarterback role, one of the biggest questions about the Vikings is if Mike Zimmer's coaching style fits the team's strengths?
"Does Mike Zimmer for this team fit? And is he willing to change his thought process on overall philosophy to beat teams who have great offenses like Seattle and Cleveland? I just can't see the answer being yes since he's had such a definitive way of wanting to play offense for years," said Matthew Coller during Vikings Live with Matthew Coller on Tuesday. 
Note: Talk of Zimmer's fit with the Vikings starts at 21:59. 
Zimmer is a defensive-minded coach and his defense has been picked apart by the Bengals and Cardinals. It's essentially a continuation of last season's horrid defense that allowed the sixth-most total yards while ranking 25th against the pass and 27th against the run, all while totaling a very uncharacteristic 23 sacks all season long.
Danielle Hunter is healthy and with that comes improved QB pressure numbers, but everything else looks like a carbon copy of the 2020 defense. Zimmer's defense currently ranks 28th in total yards allowed, 26th against the pass and 22nd against the run.
It's only two weeks, but that ain't good considering they added Patrick Peterson, Bashaud Breeland, Xavier Woods, Michael Pierce and Dalvin Tomlinson, not to mention getting Hunter back healthy.
"We thought they should be better, and they're not better so far. They will be better I think, but to think they would take a huge jump forward from one of the worst to one of the best, that takes a lot more than signing guys at $2.5 million to fill spots," said Coller. 
So what now? Russell Wilson, who is 7-0 lifetime against the Vikings, visits Minneapolis this Sunday. Is Zimmer going to try to win the game with good defense and a ball control offense, or is he going to take the reins off of rookie offensive coordinator Klint Kubiak and let the offense rip?
Kirk Cousins has led back-to-back fourth quarter and overtime drives to tie the game and give the Vikings a chance to win. But Zimmer took the foot off the gas with 40 seconds and a timeout, ultimately putting the game on the foot of an unproven kicker and it burned the Vikings in the desert. 
Did Zimmer learn his lesson or is this a case of old dogs being unable to learn new tricks? As Coller said during the show, "there isn't a shovel big enough in the world" that can help the Vikings dig out of an 0-3 start if they lose Sunday. 
Vikings Live with Matthew Coller is broadcast on the BMTN Facebook and YouTube pages every Tuesday, and you can get more from Coller via his weekly Thursday column for BMTN. All of Coller's work can be found at Purple Insider.