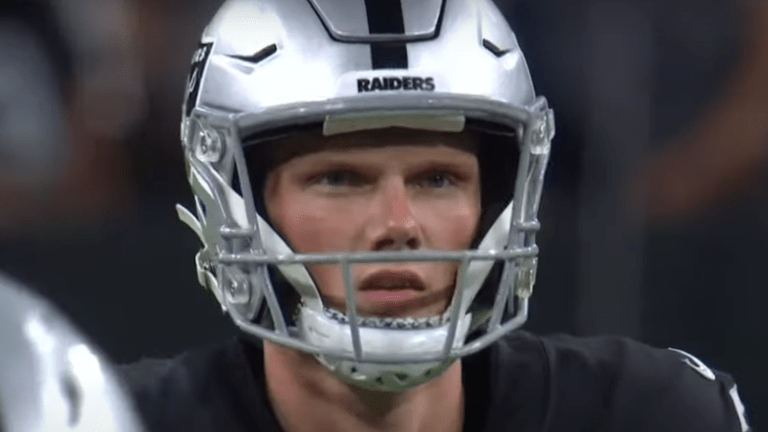 Ex-Viking Daniel Carlson has become one of the NFL's best kickers
Carlson has been automatic since joining the Raiders.
Daniel Carlson lives in Vikings infamy after a rough game in Green Bay during his rookie season, but being released by Mike Zimmer and the Vikings might've been the best thing to happen in his career. 
Now kicking for the Las Vegas Raiders, Carlson has become one of the NFL's most reliable kickers. With four field goals and two extra points in a win over the Steelers, Carlson was named the AFC Special Teams Player of the Week for Week 2. Not a bad encore to his 55-yard game-tying field goal to keep the Raiders alive at the end of the fourth quarter in Week 1. 
A fifth-round pick by the Vikings in the 2018 NFL Draft, Carlson missed a PAT in a preseason game after winning the starting job. On the following touchdown, Mike Zimmer elected to go for two points in an effort to send a message to his young kicker.
"Just let him (Carlson) know that if he's going to miss them (field goals), I'm going to go for two," Zimmer said in 2018 per ESPN's Courtney Cronin.
Three weeks later, Carlson missed three kicks -- including two in overtime -- in a tie with the Green Bay Packers. After his release, he signed with the Raiders, making 34-of-35 attempts in the final 10 games and has been automatic ever since.
According to The Daily Norsemen's Eric J. Thompson, Carlson hasn't missed multiple kicks since that fateful day at Lambeau Field and his career field goal percentage (88.1 percent) ranks fourth in NFL history.
While Carlson has thrived, the Vikings have struggled to find a reliable kicker. According to The Athletic's Arif Hasan, the Vikings are 29th in expected points added on field goals dating back to the 2017 season.
The latest chapter in field goal misery happened on Sunday when Greg Joseph missed a PAT and the 37-yard attempt as time expired in a loss to the Cardinals. Speaking to reporters on Monday, Zimmer stood by his kicker and sounded resigned to his team's futility.
"Lots of kickers miss field goals," Zimmer said. "Let's give the kid a break, OK?"
The change of heart may be something that allows Joseph to have a similar rebound. But if Zimmer had this kind of  mindset with Carlson, the Vikings' kicking woes could be a thing of the past.