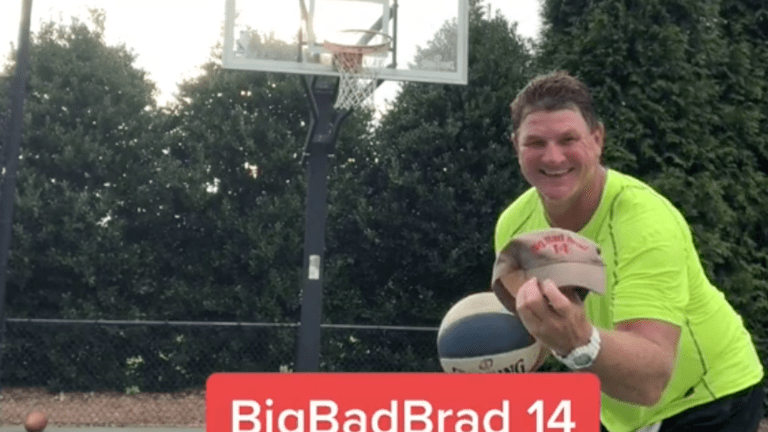 Ex-Vikings QB Brad Johnson has way too much time on his hands
Epic.
Former Vikings quarterback Brad Johnson has been retired from the NFL for more than a decade, but the now-52-year-old still has plenty of talent to show the world. 
Known for his accuracy during a 14-year NFL career — he completed 62% of his passes in seven seasons with the Vikings — Johnson has become a bit of a trick shot artist, both with a basketball and a football. 
Going by the username BigBadBrad14 on TikTok and Instagram, Johnson has put together an incredible highlight reel featuring a bunch of trick shots and throws that he's named. 
Moon Ball Bounce
High to the Sky
Bomb Launcher
Corner Pocket/2nd Pole Doink
Ground Up
Spin to Win
Double Doink
Off the Head
Tennis Delight
2 Ball Spin
Doink
Just 2 Easy
Captain Hook
Loopy Lou
Money
The "Show"
Oftentimes Johnson will finish the trick shot video by taking his hat off, bending in a slight crouch and smiling (sometimes hissing) at the camera while flashing his "Big Bad Brad 14" hat. 
"Big Bad Brad here, back by popular demand. Usually I'm shooting at goals or throwing at goals, this time I'm putting it in the hole," Johnson said in a golf shot video, where he promises that he missed the trick shot hole-in-one attempt by a foot. 
His trick shots are even rubbing off on his son, Max Johnson, who is the starting quarterback at LSU. Max was in the spotlight this past weekend when he tried to throw a no-look pass against UCLA, though he wasn't as successful as his old man.