Frustrated Vikings fans edit John DeFilippo's Wikipedia page
Apparently the football coach froze to death on Monday night.
UPDATE: John DeFilippo has been fired by the Minnesota Vikings.
Offensive coordinator John DeFilippo remains employed by the Vikings despite what seems like a significant faction of fans calling for his dismissal following another lackluster performance by the Vikings' offense in a 21-7 loss to the Seahawks on Monday night. 
But if you were to have simply checked DeFilippo's Wikipedia page during and after the game, you might think he'd been fired. That's because it was edited by frustrated fans who wanted him gone by halftime. 
There were at least four edits made on his page, saying, among other things, that he was "fired for making the worst playcalls in human history" and that he "froze to death after the MN Vikings refused to let him on the plane ride home after the soul sucking loss to Seattle on MNF." 
Enjoy the gallery. Share it with your friends and you'll be sure to score more points with them than DeFilippo did with the Vikings last night.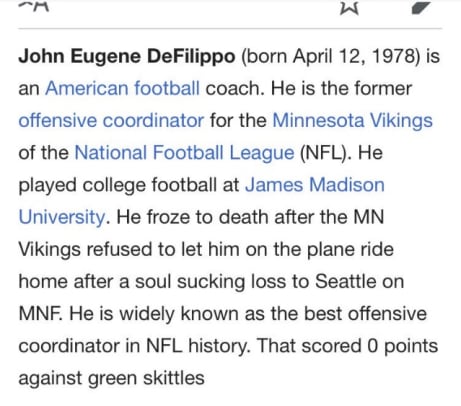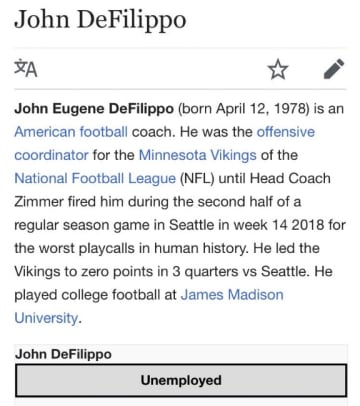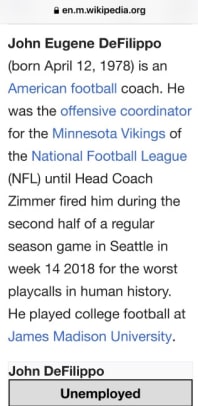 In reality, the Vikings have the 8th-ranked passing offense in the NFL and the 30th-ranked rushing offense.
But since their loss to the Saints in Week 8 they've been wildly inconsistent, with fewer than 100 rushing yards in five of six games and under 250 passing yards four times. 
| Opponent | Passing Yards | Rushing Yards |
| --- | --- | --- |
| Saints | 338 | 85 |
| Lions | 155 | 128 |
| Bears | 246 | 22 |
| Packers | 325 | 91 |
| Patriots | 183 | 95 |
| Seahawks | 199 | 77 |
Minnesota faces a leaky Miami defense this week followed by games against tough defenses, Detroit and Chicago, to finish the regular season. 
Follow Bring Me The Sports on Facebook