Gallery: Hockey hair from day 1 of the Minnesota high school state tournament
Barbers and hair stylists must be going out of business in these towns.
Long known as one of the fittest states in the land, Minnesota owes its health to its youth buying into the idea that salads are good for you. 
And by salads, we're talking about the flowing locks atop the heads of Minnesota hockey kings and princes. 
Behold, our first photo gallery of hockey hair featuring the eight teams from Wednesday's opening round of the Class A boys' state hockey tournament: Mahtomedi, St. Cloud Cathedral, East Grand Forks, Greenway, Delano, New Ulm, Minnesota River and North Branch.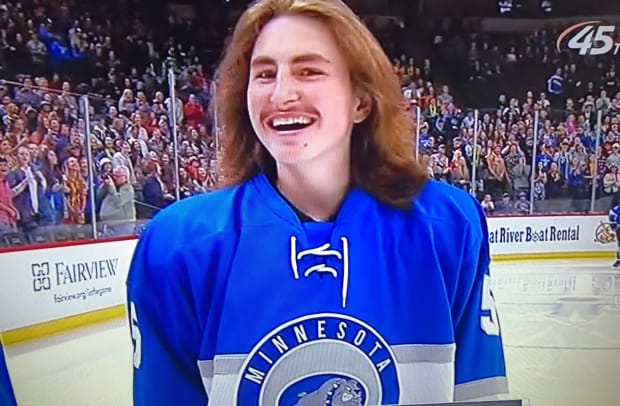 Mahtomedi, St. Cloud Cathedral, East Grand Forks and Greenway advanced to the state semifinals, setting the stage for some awesome action on Friday at Xcel Energy Center. 
Meanwhile, excitement is brewing for what the boys from the Class AA schools hair-ve in store for us. The AA games begin today at 11 a.m. 
11 a.m. White Bear Lake Area (21-4-1) vs. No. 2 Blaine (22-2-2)
1 p.m. Lakeville South (14-12-1) vs. No. 3 Eden Prairie (17-9-2)
6 p.m. Moorhead (21-6-1) vs. No. 1 Edina (24-2-1)
8 p.m. No. 5 Duluth East (18-6-2) vs. No. 4 St. Thomas Academy (24-3-1)
Note: start times are always later than what's posted.