Gallery: Hockey hair from the Class AA teams at the state tournament
The kid in the picture is an absolute hero.
It's semifinal Friday at the boys' state hockey tournament but we're not here to discuss what happens during the game, we're here for the hair. 
After teams from Class A showcased incredible locks of lettuce during Wednesday's quarterfinal round, the boys from Class AA had the chance to reveal hair styles that undoubtedly required daily grooming and no cuts for the past year. 
Sadly, we had some technical difficulties during introductions for Blake and Maple Grove, so we're sorry to say they're not included. We're sure they had some amazing manes, but we did the best we could to get as man majestic salads and mullets from Class AA as we could.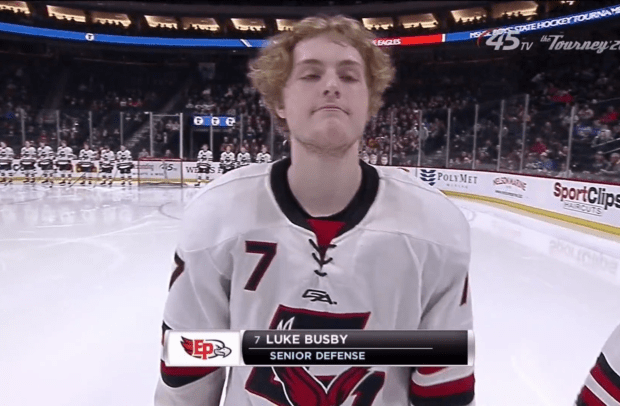 All photos courtesy of KSTC 45 and Prep45.com.
Overall, the hair title of 2020 was a blowout in favor of Class A. Class AA represented well, but with so many private schools, including the clean-cut St. Thomas Academy Cadets, Class A was always the favorite to take home the title. 
Here's how semifinal Friday will happen, with all games again televised on KSTC 45 and online at Prep45.com. 
11 a.m. - St. Cloud Cathedral vs. Hermantown
1 p.m. - Warroad vs. Mahtomedi 
6 p.m. - Blake vs. Eden Prairie
8 p.m. - St. Thomas Academy vs. Hill-Murray
In reality, there's no way the games scheduled for 1 p.m. and 8 p.m. will start on time. It'll most likely be closer to 2 p.m. and 9 p.m. when the puck drops in those games.