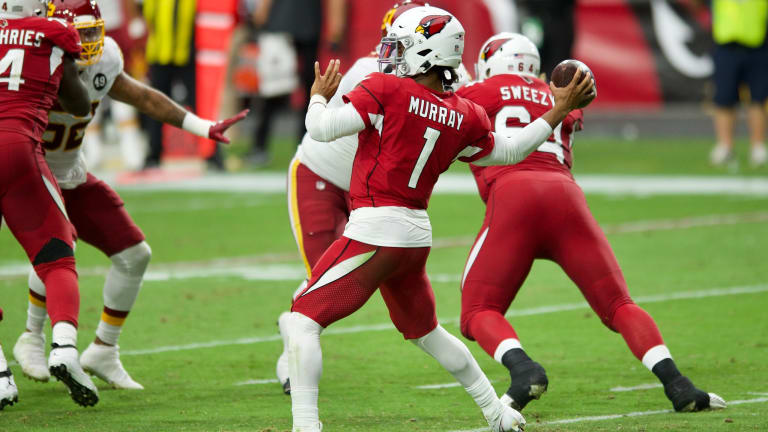 How can the Vikings stop Kyler Murray?
The Cardinals quarterback accounted for five touchdowns against the Titans.
If the Vikings want to pull off a victory against the Cardinals on Sunday, they'll have to find a way to stop Kyler Murray.
Typically, the best way to stop a dual-threat quarterback is to keep him confined to the pocket. But Zimmer didn't seem confident that the Vikings would be able to do so on Sunday.
"Saying we're not going to keep him in the pocket all day is not realistic," Zimmer told reporters this week. "I can say we're going to keep him in the pocket all day, but I don't think that's truly going to happen."
Zimmer's comments make sense on the surface. With Anthony Barr out for the second straight game and Eric Kendricks and Nick Vigil banged up, it may not be possible to make Murray a statue.
But what if Zimmer wants Murray to get out of the pocket? While it could set them up for big plays on the ground, it's not as crazy as it seems. 
The Ringer's Steven Ortiz did a deep dive on Murray's performance against the Titans and sorted out the plays where Murray was in and out of the pocket. What he found is that Murray performs better when throwing from the pocket than when he's forced to improvise.
On 26 plays from the pocket last Sunday, Murray generated an expected points added of 0.47 per play. When he was forced out of the pocket, that number dropped to -0.05.
While it should be noted that Murray threw two touchdowns out of they pocket in Week 1, Ruiz cautioned that it wasn't a sustainable approach for Kliff Kingsbury's offense.
"Though Murray did do most of his damage within the structure of the Cardinals offense, a lot of his bigger plays required obnoxiously difficult throws," Ruiz wrote. "...The type of throws Kingbsury cannot rely on Murray to make every week if this offense is going to sustain itself."
This should play into the Vikings' hands on Sunday as they did a solid job of pressuring Joe Burrow in Week 1. According to Pro Football Focus, the defense was able to pressure Joe Burrow on 34 percent of his dropbacks, which led to five sacks. 
Those numbers are especially important with Murray's tendency to leave the pocket early rather than letting the play develop. This is key in the Cardinals' air raid system, which relies on quick passes and screens rather than deep shots downfield.
There is a chance that Murray could use one of these plays to pick up a 20-yard gain on the ground but that's the real challenge for the linebackers. If the Vikings are able to generate constant pressure on Murray, it should result in some ".500" balls that he chucked up for grabs last week.
That will give the Vikings secondary a chance to make a play and make things easier in the desert.