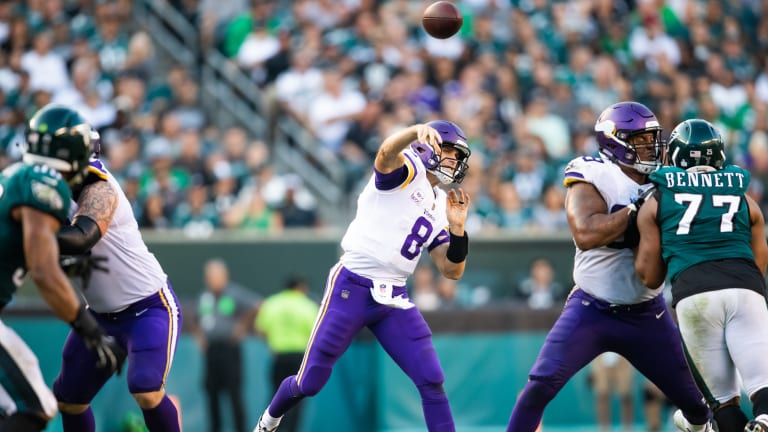 Kirk Cousins needs to let it fly against the Cardinals
An aggressive approach could ensure a win in the desert.
Looking at his stats, Kirk Cousins had a solid day against the Bengals. With 352 yards passing, a pair of touchdowns and a game-tying drive, he did enough to give the Vikings a chance to win.
But heading into Sunday's matchup against Arizona, the Vikings are going to need more from Cousins to beat the Cardinals.
Cousins has been at his best when he plays aggressively. Over the past two seasons, he's averaged 8.2 yards per attempt and has helped the Vikings become one of the league's most explosive offenses.
While the matchup was ripe to do the same against Cincinnati, he averaged just 7.1 yards per attempt and was relegated to the short-yardage throws that drive fans (and his head coach) insane.
According to Cousins, there were several reasons why he couldn't push the ball downfield. 
For starters, the Bengals played a majority of Sunday's game with two safeties playing deep. Once the Vikings committed enough penalties to put themselves in 3rd-and-forever situations, the Bengals were able to play at the first down marker, which drove Cousins to average 5.5 yards on 16 long-yardage situations.
"I think when you're in longer yardage [situations], your defenders are going to be smart and play the sticks," Cousins told reporters on Wednesday. "They kind of kept things in front of them for the most part so it would have been a lot of foul balls or tight looks if we had tried to go down the field in many of the plays."
While the offense will look to clean up its 12 penalties against Cincinnati, Cousins should have an easier time attacking the Cardinals defense this week.
According to Mike Zimmer, the Cardinals primary look against the Titans featured one deep safety in order to stop Derrick Henry. By loading the box, Arizona held Henry to 58 yards on 17 carries in a 38-13 victory.
With Dalvin Cook in the backfield, the Cardinals could use the same look, placing the emphasis on Cousins to beat them with deep shots.
That could prove difficult after the offensive line struggled against the Bengals.
According to Pro Football Focus, Rashod Hill allowed two pressures and committed three penalties (one declined) going up against Trey Hendrickson. This week, he goes up against Chandler Jones, who obliterated three-time Pro Bowler Taylor Lewan for five sacks.
Oh, and the Cardinals signed J.J. Watt, who has 101 career sacks, this past offseason. In other words, their pass rush is good but it opens a chance to take advantage of their secondary.
With a single-high safety, the Vikings will have their opportunities to take deep shots. Even if Justin Jefferson and Adam Thielen have "tight looks," they continue to be two of the NFL's best contested-catch receivers; Thielen had three tight-window catches last week alone. 
If the Vikings can take advantage, they should have an easier time moving the ball. If the Cardinals go back to a two-deep look, it could open up the running game and allow Cook to have a productive day.
This comes ahead of a matchup that might already be a must-win for the Vikings. If Cousins plays to the level he's capable of, it gives the Vikings a decent chance to pull off the upset.