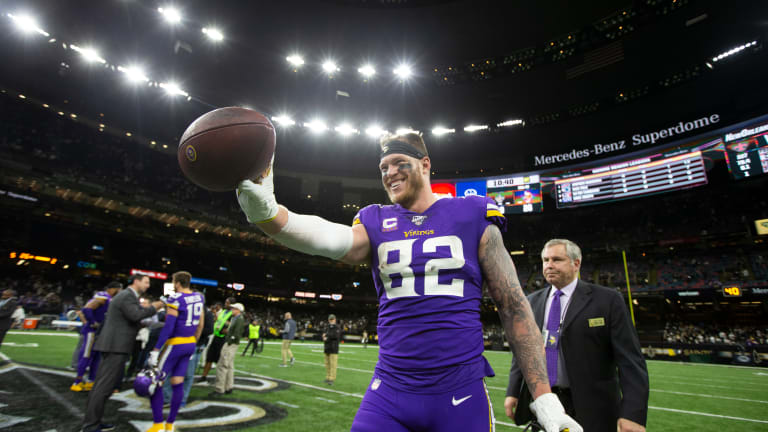 Kyle Rudolph slams media that took his Mike Zimmer comment out of context
The Giants tight end made some interesting comments during an interview.
Following his comments during an interview with the Giants, former Viking Kyle Rudolph took to social media on Thursday night to deny taking a shot at Mike Zimmer.
Rudolph made headlines earlier this week when a video surfaced where he was asked about playing for head coach Joe Judge. His answer raised eyebrows in that he referenced not playing for "a defensive coordinator" for the first time in his career.
"For me, it's the first time I've had a head coach that's not a defensive coordinator," Rudolph said. "It's a head coach that's in charge of the entire team and it's been a lot of fun for me to learn from him."
Some media outlets decided to run with Rudolph's words, going as far as accusing Rudolph of suggesting Zimmer is a "glorified defensive coordinator." While he played seven seasons under Zimmer, he also played the first three seasons under Leslie Frazier, who also was a defensive coach.
After the video surfaced, Rudolph went on The Rich Eisen Show and raved about playing under Zimmer.
"People will say all the time 'I would run for a wall for this person and you kind of take it with a grain of salt," he said. "But when I say that about Coach Zimmer, it's true because you would do it as if there was something on the other side that you had to have. You wouldn't just run through the wall because he said so. You truly believe that he has his best interest in mind."
Rudolph doubled down on those comments on his Twitter account, revealing that the interview about Judge took place four weeks ago.
"Y'all back there trying to make a comment seem like it's a shot a Zim when it nothing to do with him in context I was stating facts that both of my previous two head coaches were defensive coordinators.. I have nothing but love and respect for Zim and Leslie.." Rudolph wrote. 
Rudolph's comments check out considering Zimmer was one of the many people he thanked upon his release this past March.
Not only that, but taking public shots isn't exactly what the Vikings' 2019 nominee for the Walter Payton Man of the Year award is known for.