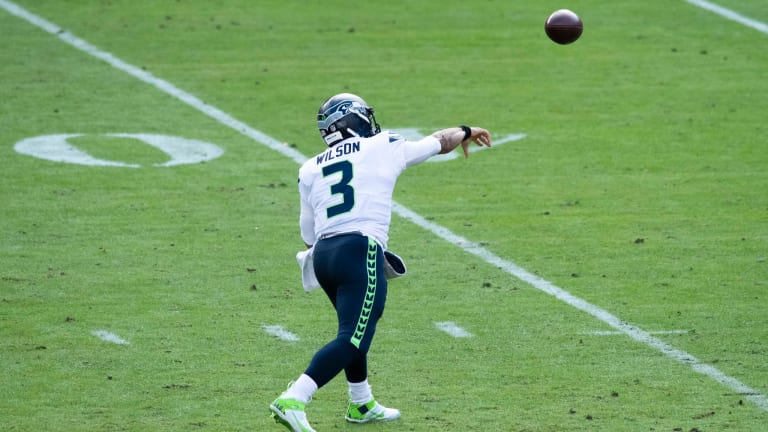 Matthew Coller: Where does Russell Wilson rank among cursed Vikings things?
Matthew Coller's work can be found daily at Purple Insider.
Matthew Coller is a published author and football writer who covers the Vikings. He also writes a weekly Vikings column for Bring Me The News, in addition to hosting a livestream on the Bring Me The News YouTube and Facebook pages every Tuesday. You can find more of his work at Purple Insider.
Since the Boston Red Sox and Chicago Cubs won the World Series, it's been harder to argue that sports curses exist. If The Babe and the Billy Goat can't hold up forever, nothing can. But Minnesota Vikings fans have a pretty good case for their team being on par with the most bedeviled franchises in the universe. In fact, we've reached the point where there's some weekly connection to a stunning, improbable, unexplainable stat or factoid every week.
The Vikings are coming off a loss to the Arizona Cardinals in which their kicker missed a field goal from 37 yards out. Since 2010, kicks between 35 and 40 yards go through the uprights 87% of the time. Yet Greg Joseph's boot went wide right, pushing the Vikings' record to 0-2. Of course, that kick wasn't close to as improbable as Gary Anderson's famous NFC Championship gaffe. He'd made 100% of his kicks that year. And Blair Walsh's 27-yard try in the 2015 playoffs, well, that had a 95% chance of going in based on the previous 10 years of kicks 27 yards or shorter.
Kicking is just the beginning when it comes to voodooed things surrounding the team. There's knee injuries, Soldier Field, a roof collapsing, 12-men in the huddle and a string of coincidences (like, say, that they were this close to winning the Suck For Luck sweepstakes) that are beyond comprehension.
Somewhere in that mix of madness is Russell Wilson.
The seven-time Pro Bowl quarterback is 7-0 against the Vikings in his career, including 5-0 versus Mike Zimmer.
That isn't the strange part. It's not exactly breaking news that Wilson tends to win games. It's the manner in which Wilson has beaten the Vikings. The Blair Walsh Game is just the tip of the spooky iceberg. Mainly the weird thing is that he hasn't been that good and the Vikings have still found ways to come up short.
Since 2014, Wilson has a 102.6 QB rating overall but in five games against Zimmer's defense, that number is only 92.9. His yards per pass attempt is 6.9 versus the Vikings in that time span and 7.8 overall.
In 2018, Wilson went 10-for-20 with 72 yards and a 37.9 rating in a 21-7 win over the Vikings. That game represented his lowest career yardage and QB rating in a regular season game. Yet the Vikings were shutout until the waning moments. Offensive coordinator John DeFilippo was fired the next day.
The next year, the Vikings were down 34-17 but led a furious comeback that set them up with a chance to beat Seattle but Kirk Cousins threw short of the sticks to Irv Smith Jr. and they fell 37-30.
In 2020 they took a 13-0 lead early and came within a fourth-and-1 conversion of ending the Seattle streak but Alexander Mattison was stuffed and Wilson converted two fourth downs, including a game-winning touchdown pass.
To put it all in context, the Vikings had a 78.4% chance to win to start the second half of the 2019 game and 96.0% late in the 2020 game, per ESPN.
But those numbers do not add in a Vikings Curse quotient.
In a year where the Vikings have had two confounding losses to start the season, it seems appropriate that Wilson and the Seahawks are this week's opponent.
There is a twist this time. Sunday's contest will be held at US Bank Stadium. Despite matching up five times during the Zimmer era, Wilson has never had to play in the unfriendly confines in downtown Minneapolis.
"I thought they signed a contract for us to go over there," running back Dalvin Cook joked. "It's been crazy."
So what are we to make of the Vikings' matchup with the Seahawks when history is foreboding but the game is on new grounds?
There's a good case for either result.
In one way, the Vikings have played well enough to be 2-0. Usually when that's the case, things even out down the road. On the other hand, Wilson remains one of the best players in the NFL and his recent streak of tough games against the Vikings would be hard to keep up for a defense that's given up 61 points in the first two weeks.
Kirk Cousins has played strongly, ranking fourth by PFF. But he's never ranked that high for a full season, so is regression looming? Both teams can run the ball and hit deep shots. Both have weaknesses that make them suspect. Both have experienced coaches. Both have pressure on this season.
Are ties cursed? Oh, right, that time in Green Bay with the kicker.
The Vikings have to be tired of getting these curse-related questions. Greg Joseph said "I guess that's for you guys to decide when he was asked about the haunted history of Vikings kickers.
"I get people look at history and it sells on the internet and your guys' job – I get that, but the bottom line is this: You've gotta go play Sunday, better than Seattle, and win," co-defensive coordinator Andre Patterson said in discussing unfortunate mishaps that have led the team to 0-2.
Well, if the Red Sox and Cubs can break their curses, maybe Joseph will drill a game-winner and the Vikings will take down Wilson for the first time in his career. And maybe all of these things are just coincidences. Maybe.