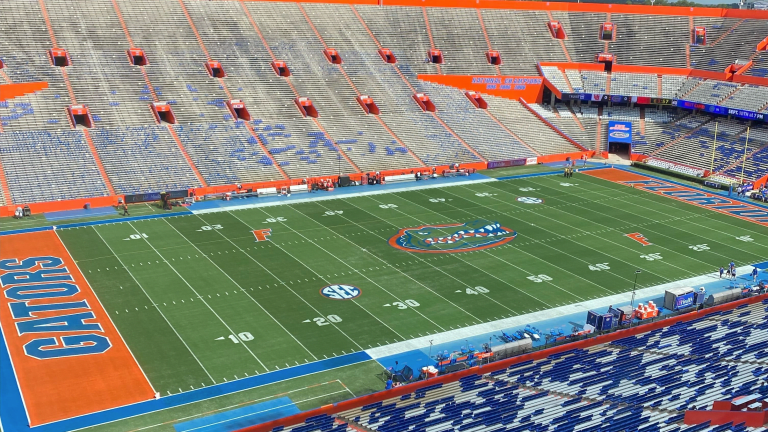 Minnesota's Sloane Martin kicks off 'College Football Saturday Night' with marquee game
It's the first of 13 regular-season games she'll cover as part of the Saturday night game of the week.
College Football Saturday Night debuts today and will feature Minnesota-based play-by-play announcer Sloane Martin, who will team up with Mike Golic Jr. for the Learfield Sports national broadcast.
Martin, who has been on the national scene as a broadcaster for Big Ten Network and the Minnesota Lynx, gets one of the most hyped games on the opening weekend of the college football season as No. 7 Utah is in Gainesville to face the Florida Gators.
The game kicks off at 6 p.m. Central Time. Fans can see Martin and Golic in action on Facebook Live or YouTube. Click here to see an example of what last year's broadcasts were like.
In short, it's a much more immersive, behind-the-scenes view of the entire gameday experience, including Martin and Golic wandering through the tailgate lots before they move into the broadcast booth, which you can see by following Learfield Audio on Twitter.
Saturday's battle between the Utes and Gators is the first of 13 regular-season games and then a bowl game that Martin and Golic Jr. will bring to viewers and listeners across the country over the next four months. The audio will be fed to more than 120 radio stations nationwide, Sirius XM and to The Varsity Network app.
Martin assumes play-by-play duties held in 2021 by Kate Scott, now the dedicated play-by-play announcer for the NBA's Philadelphia 76ers. Martin has become one of the fastest rising sports broadcasters in the country.
The 33-year-old L.A. native began her career like many others broadcasting high school sports, but she broke through in March 2019 as the first female play-by-play TV announcer for the Minnesota State High School League boys' hockey tournament.
A month later she was named the radio voice of the Minnesota Lynx as she double-dipped as a news reporter at WCCO Radio in Minneapolis. She left WCCO in 2021 and is now the lead play-by-play voice of Big Ten Network women's basketball, where she took over for Lisa Byington, who is now the full-time TV voice of the Milwaukee Bucks.
Martin also calls softball and hockey games on Big Ten network.
Note: Martin is married to Matthew Coller of Purple Insider. Purple Insider stories can be found at Bring Me The Sports.