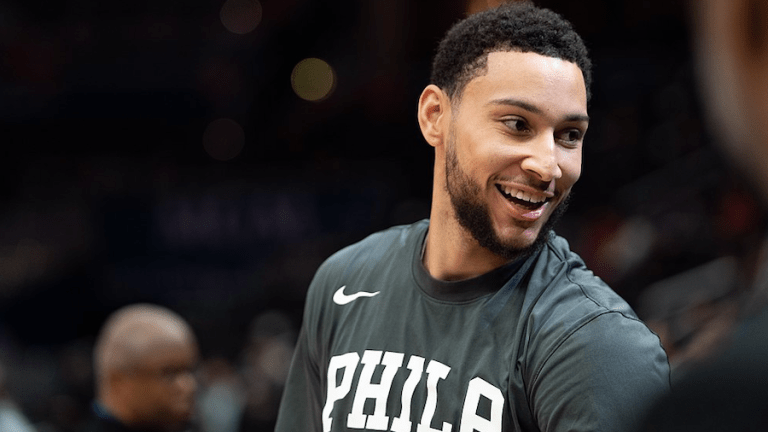 Report: Ben Simmons open to playing with Timberwolves
Training camp starts at the end of September.
Ben Simmons wants out of Philadelphia and it appears the Timberwolves would love to have him in Minnesota. 
The former No. 1 overall pick told the 76ers front office that he doesn't want to play for Philadelphia anymore, nor does he intend to go to training camp, according to Keith Pompey of The Philadelphia Inquirer. 
On his daily podcast Wednesday, Pompey said he thinks something will happen with Simmons during training camp. 
What's more is that The Athletic's Jon Krawczynski says Simmons is open to playing with the Timberwolves. 
"My sources tell me that Simmons is open to a Minnesota Timberwolves move. He would be good coming here," said Krawczynski, appearing on KFAN radio at the Minnesota State Fair. 
The Sixers reportedly want a "king's ransom" for Simmons, including a bonafide superstar who can help them win immediately. Damian Lillard is the name most connected to Philly, but Pompey says that's "not going to happen." 
Minnesota doesn't have a player of Lillard's caliber to offer Philly, and according to The Athletic's Jon Krawczynski, the Wolves consider Anthony Edwards and Karl-Anthony Towns are untouchable. More from Krawczynski: 
"As of right now, the Timberwolves do not have a trade package that offers Morey the win-now assets a team in championship mode wants. They are not going to put Karl-Anthony Towns into any type of multi-team deal to try to get the wheels moving and Anthony Edwards remains untouchable as well. Even if the Wolves did include D'Angelo Russell in an offer — and they have talked all summer about building a team with Towns, Edwards and Russell around Simmons — it would not appear to be the magic bullet move that Morey needs to part ways with one of the best defensive players in the league … yet."
Krawczynski said on KFAN that the Wolves prefer to keep D'Angelo Russell, but would be willing to trade him if that's what it takes to get Simmons. Jaden McDaniels, Malik Beasley and a "bunch of picks" would also be movable assets, he said. 
Simmons is a 6-foot-11 point-forward who has averaged 15.9 points, 8.1 rebounds, 7.7 assists, 1.7 steals and 0.7 blocks per game in four seasons. He's a three-time All-Star and a two-time All-Defensive Team selection, but he's made just 5 of 34 career 3-point attempts and is a career 59.7% free-throw shooter. 
NBA training camps begin Sept. 28. All eyes will be on the Simmons situation, including new Wolves guard Patrick Beverley's.