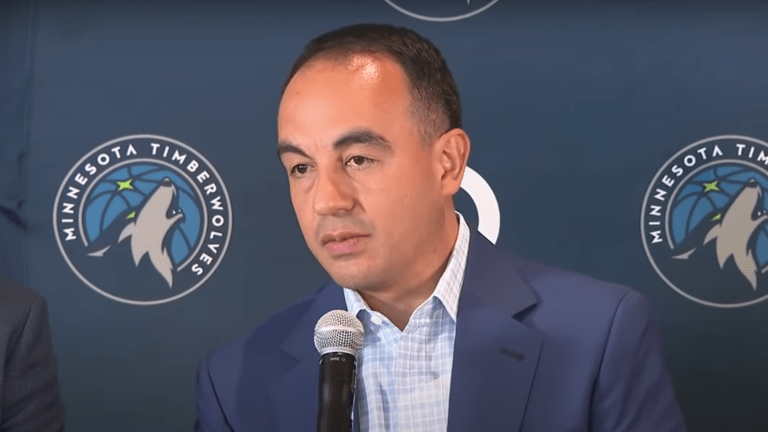 Reports: Alleged affair, staff discontent behind Gersson Rosas' Wolves firing
The first to go public with the extra-marital affair report was a Reddit user.
When NBA insider John Krawczynski speculated during a Twin Cities radio appearance on Wednesday that something "drastic" must've happened to have the Timberwolves fire Gersson Rosas just one week before the start of training camp, he wasn't kidding. 
Kawczynski, in a report in The Athletic, says the environment in the office under Rosas' leadership was "dysfunctional," with unidentified sources telling Krawczynski that there was "mounting discontent" in the front office as Rosas had his staff work "long hours without giving much input into the decision-making process." 
Wolves insider Dane Moore also reported that there has been "dissension" in the team's front office for "quite some time." 
But the timing of the decision to fire Rosas may have been the result of an extra-marital affair, which was first shared on Reddit, and then by Krawczynski. 
Krawczynski's report echoed the Reddit claim:
"But why now? In recent days, the organization discovered that Rosas, who is married, had a consensual intimate relationship with a member of the organization, The Athletic has learned from multiple sources. It made several people within the organization uncomfortable, sources said. While this was not the reason for Rosas' dismissal, it certainly impacted the timing."
Other Wolves journalists learned the same, with WCCO reporting an "inappropriate relationship" was among the reasons for his departure, as well as the creation of an allegedly "toxic" culture, while the Star Tribune's Chris Hine wrote of "growing discord and strained relationships" as well as "recent actions involving a female employee of the team."
The firing of Rosas comes at a critical juncture as Rosas and the Wolves have reportedly been attempting to trade for disgruntled Philadelphia All-Star Ben Simmons.
What the firing will do to trade discussions is unknown, but Sachin Gupta, Minnesota's second in command who is taking over for Rosas, also has a previous working relationship with 76ers GM Daryl Morey, though Gupta has never been in a lead role for such a blockbuster transaction. 
Minnesota begins training camp on Sept. 28. Media day is Monday, at which point there may be more answers from those now in charge. And fans will surely get more from Karl-Anthony Towns, who reacted to news of Rosas' firing with three letters: "WTF."