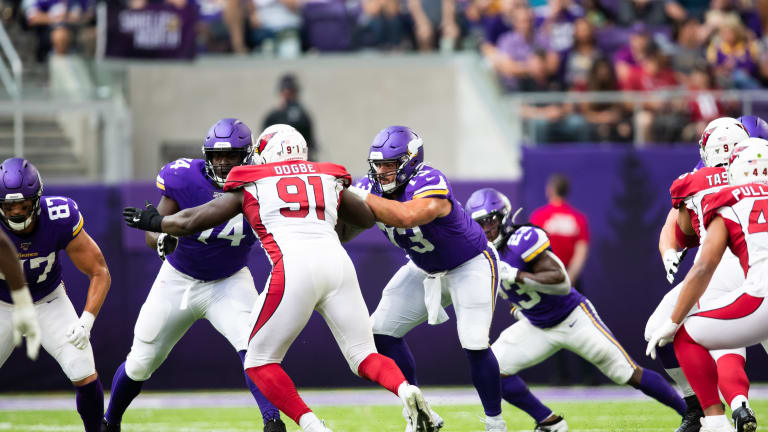 Vikings-Cardinals: 5 things you can count on happening
The Vikings need a win in the desert but will they get one on Sunday?
Week 2 normally isn't a moment of panic in the NFL, but for the Minnesota Vikings, their problems have stretched further than an opening loss in Cincinnati.
After a tumultuous training camp and preseason, the Vikings dropped a game that many had predicted them to win in Week 1. The result is an 0-1 record heading into a stretch where the Vikings play three straight playoff contenders including Sunday's matchup with the Arizona Cardinals.
A win ahead of home games with Seattle and Cleveland presents some much-needed positivity but a loss presents a realistic path to an 0-4 start. While we can't look ahead to the next two weeks, there are several things you can count on for this showdown in the desert.
1. There will be fewer penalties
This should be like the free space on a bingo card. The Vikings committed 12 penalties last week including four on the opening drive. The constant third-and-long situations shrunk the playbook and the offense couldn't get going until it was too late.
"It puts you behind the 8-ball," center Garrett Bradbury told reporters this week. "Coach [Klint] Kubiak did a great job but when you're 2nd-and-15, 2nd-and-20, 3rd-and-20, there's not a lot of play calls that can get you out of that."
Mike Zimmer said after the loss to the Bengals that the penalties his team committed were not happening in practice. With Bradbury mentioning that cleaning up the penalties was a point of emphasis coming into Arizona, the Vikings should be able to clear the low bar they set in Week 1.
2. Kirk Cousins will have more deep shots
Cousins produced a strong stat line on Sunday but it turned out to be a microcosm of his career. While he produced 352 yards passing, he did so on 49 attempts with just three traveling beyond 20 yards. It's unlikely the Vikings will ask Cousins to throw as much against Arizona but when they do, there's a better chance they'll throw it deep.
Along with the previously mentioned penalties, the Cardinals prefer to play a single-high safety to stop the run. With Dalvin Cook in the backfield, it should create a mismatch on the back end of the defense, allowing Cousins to connect with Justin Jefferson or Adam Thielen for long gains.
This should be aided by the return of play-action, where Cousins posted a 122.3 passer rating last season. The Vikings attempted just eight play-action passes last week, so a return should help the offense become more explosive.
3. Kyler Murray will get out of the pocket
Speaking to reporters on Wednesday, Zimmer sounded resigned to the fact that the Cardinals star won't be confined to the pocket. But as The Ringer's Steven Ruiz wrote, that could be what the Vikings want.
Ruiz broke down the Cardinals offense from their Week 1 victory over the Titans and found that Murray produced less expected points outside the pocket than as a pocket passer. He also showed that Murray has a tendency to leave the pocket early, which makes pressure a key for the defense.
The Vikings pressured Joe Burrow on 34 percent of his dropbacks last week and it resulted in five sacks. While Murray could be able to escape the pass rush, his tendency to bail on a play could produce more difficult throws that could wind up into the arms of the secondary.
4. J.J. Watt will terrorize the offensive line
After collecting five sacks last week, Chandler Jones has become the face of the Cardinals' pass rush. But Jones is just one piece of a defense that also has several ways to get to the passer including future Hall of Famer J.J. Watt.
Watt has spent the majority of his career on the edge but PFF charted 10 of his 46 snaps on the interior against the Titans. With Watt being used as a chess piece, it's bad news for an offensive line that struggled against the Bengals.
A lot was made of Bradbury's communication last week and with the Cardinals using multiple fronts, his job won't get any easier. After allowing a team-high four pressures, Bradbury, Ezra Cleveland and Oli Udoh will have to play better on the interior if the Vikings want to come away with a victory.
5. The Vikings are heading to 0-2
Watching both sets of press conferences, you can feel a difference between these two teams. While the Vikings have had a tense atmosphere since training camp, the Cardinals seemed loose and a team that is understanding what they're capable of.
That will happen when one team wins and another loses but it feels like it could have a carry-over effect to this game.
The Vikings have the players and scheme to beat the Cardinals but they need to play to their strengths. If Minnesota has another penalty-marred, checkdown-throwing, self-depreciating performance it will lead to an 0-2 hole they may not be able to get out of.
Prediction: Cardinals 34, Vikings 21