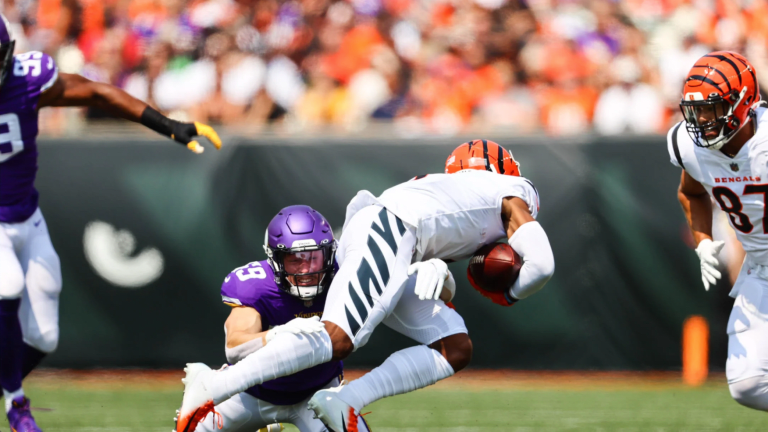 Vikings in serious jeopardy of falling into a deep hole
Sunday's loss to Cincinnati could put Minnesota in another early hole.
Sunday's 27-24 overtime loss to the Bengals was marred by ineptitude that only Vikings fans can understand, while also emphasizing some potentially massive issues that could put the Vikings in an even deeper hole as the season continues. 
It begins with the offense, which was at fault for the majority of a dozen penalties that backed the team up 116 yards and consistently put them in third-and-impossible situations. 
"It was tough to be able to call our plays," Adam Thielen said after the game. "Whenever you talk about offense, you talk about giving yourself opportunities to open up the playbook. When you're 2nd and 20 or 3rd and 15 or 3rd and 12, your playbook goes from wide open to very narrow."
The offensive line went a long way in making things difficult with all five starters committing at least one penalty, and Kirk Cousins didn't help matters by playing conservatively. 
Cousins threw for 352 yards and a pair of touchdowns but averaged a measly 7.1 yards per attempt. By comparison, Cousins had 8.3 yards per attempt last season, which was his highest rate since becoming a full-time starter in 2015.
Zimmer told FOX's Jen Hale at halftime that he thought Cousins was holding onto the ball too long. Cousins got his stats but didn't get the explosive plays the offense needs to truly threaten a defense. 
It was a standard September performance for Cousins, who has averaged 258 yards per game whiling throwing 20 touchdowns and 10 interceptions in 12 September starts since coming to Minnesota. The Vikings are 3-8-1 with Cousins starting in September. 
It now appears very possible that Cousins and the Vikings losing in September is a trend that will continue. The Vikings hit the road to face Kyler Murray and the Arizona Cardinals this week. Arizona defaced the Titans in Tennessee, with Murray accounting for five touchdowns while edge rusher Chandler Jones abused three-time Pro Bowl left tackle Taylor Lewan for five (5!) sacks. 
The Vikings return home in Week 3 and Russell Wilson and the Seattle Seahawks will be waiting for them. Wilson has gone 6-0 against the Vikings in his career and threw for four touchdowns in a win over the Indianapolis Colts yesterday. 
If the Seahawks are letting Russ cook, Bashaud Breeland best be better because he got smoked to the tune of a 145.8 passer rating by Burrow and the Bengals, not to mention his five missed tackles were the most of anyone in the NFL in Week 1, according to Pro Football Focus. 
Then it's a visit from Kevin Stefanski and the Cleveland Browns, who went blow-for-blow with the Kansas City Chiefs. Baker Mayfield and company looked awesome even without Odell Beckham Jr., who will probably be good to go by the time Week 4 arrives. 
As if that's not scary enough, the Browns defensive front is incredible with two of the most feared pass rushers in the league in Jadeveon Clowney and Myles Garrett. Does anyone on the planet think Minnesota's offensive line will stand a chance against those monsters?
Last season, the Vikings started the season 1-5 and it was a hole they couldn't climb out of. This year, avoiding a similar start looks like a tough task. Zimmer and the Vikings better get their act together ASAP or they could be feeding on the bottom all season long.