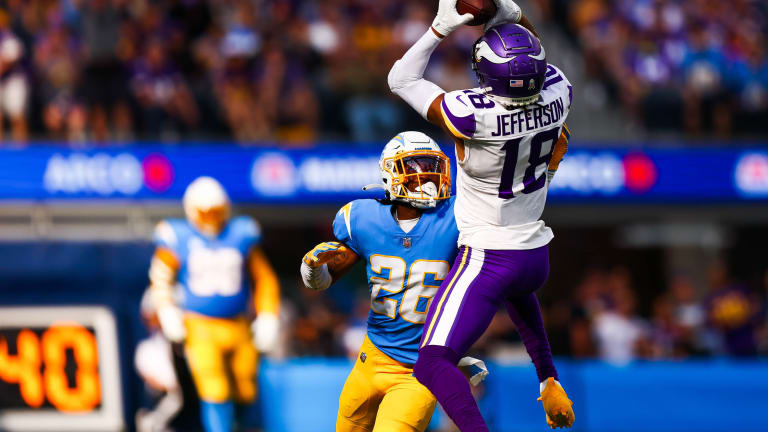 Vikings must continue building out receiving corps in 2022
Justin Jefferson headlines a young, promising group, but more depth is still needed
The baton has been passed, and it's not getting passed back: Justin Jefferson is the Vikings No. 1 receiver. 
That much was probably established when the 2021 season began, but with all due respect to a still-very-good Adam Thielen, Jefferson left little doubt who's the top dog as he built upon his sensational 2020 by setting more NFL records in Year 2. He is one of the great receivers in the game, and he's the top asset inherited by the Vikings' next regime.
But his talent alone is not enough to translate to playoff appearances. That much has been determined through his first two seasons as outputs of 1,400 and 1,616 yards led to records of 7-9 and 8-9. Add in Thielen's production, and the Vikings got a combined 2,325 and 2,342 yards from their top two receivers in those years, yet they've failed to be above .500 in two seasons.
The Vikings' next GM and coach will undoubtedly be crafting an offense around Jefferson's (and Thielen's) talents, but it will be imperative that they build up the group's depth to keep pace in the NFL's offensive arms race. As teams more frequently spread four and five receivers out, one or two stars is no longer enough. Even a run-heavy team like the Titans found it prudent to go after a star like Julio Jones when they already had A.J. Brown. The Rams added Odell Beckham Jr. midseason when they already had Cooper Kupp and Robert Woods at the time. The Cardinals added A.J. Green in free agency to join DeAndre Hopkins, then went and drafted useful receiver Rondale Moore in the second round.
More is better.
The Vikings, perhaps unintentionally, made an important pivot offensively this season that might aid in their transition to a more modern offense — if that's what the future coach has in store. Irv Smith Jr.'s injury forced the Vikings to leave the relative comfort of their double-tight-end system and rely heavily on K.J. Osborn, who was the long-awaited WR3 the offense had been craving. The Vikings still used "11" personnel the sixth-fewest times of all NFL teams, but it was a sizable jump up from 2020 when they were dead last by a wide margin.
Osborn led all qualified slot receivers in passer rating when targeted (147.4) and put together a 655-yard season full of clutch catches. Whatever the Vikings offense looks like next season, Osborn should be a part of it, but the buck also shouldn't stop there.
Kirk Cousins noticeably got worse when he lost Thielen to injury late in the season, and even the emerging Osborn wasn't enough to pick up the slack. Building a receiving corps that has the potential to maintain itself without a star receiver should be the goal. Free agent Dede Westbrook seems unlikely to return after a 10-catch season, which leaves Ihmir Smith-Marsette as the next in line to be a producer in 2022. It might be dangerous, however, to assume he'll make the second-year leap as easily as Osborn, which is why receiver should not be off the table early in the NFL Draft.
The Vikings also have a decision coming at tight end with Smith returning from knee surgery and Conklin entering free agency. As we detailed in early December, Tyler Conklin may have priced himself out of the Vikings' budget after a 593-yard season where he made 61 catches and played in all 17 games. Conklin was 15th out of all NFL tight ends in yards despite having one of the highest pass-blocking percentages of any starter and staying in-line on over 80 percent of plays. Considering Conklin's age, production and similar contracts around the league, it wouldn't be shocking to see him receive $8-10 million a year on the open market and thrive for a team that likes to stretch the field more.
Bringing back Smith on the final year of his rookie deal seems like the better financial play, not to mention Smith has more athleticism and raw talent than Conklin. Even though Smith's three-year resume is somewhat impressive, he'd fit in well with a more modern offense that uses him all over the line of scrimmage, which Minnesota hasn't done as much as it discussed when it drafted Smith. The Vikings may also be able to negotiate a team-friendly extension before the 2022 season with Smith, unless the former second-round pick bets on himself and tries to have a big season before free agency.
Assuming the Vikings let Conklin walk and keep Smith on a low cap number this year, they are in a good financial spot at the pass-catching positions. Per OverTheCap, Minnesota has committed the 14th-most dollars to the WR/TE spots in 2022, which considering its talent, is a bargain. That will change when Jefferson enters extension talks in two years.
Thielen remains the only player on a second contract, which costs the Vikings over $16 million against the cap next season. While Thielen turns 32 in August, he remains one of the most sure-handed receivers in football, a tremendous red zone threat and a strong mentor for a young receiving corps. Jefferson, Osborn and Smith-Marsette are all under team control for multiple years, leaving Smith as the only real financial question mark.
And the Vikings shouldn't be shy about adding more youth. Tee Higgins, Michael Pittman Jr., Van Jefferson, Chase Claypool, Bryan Edwards, Elijah Moore, Rondale Moore, Amon-Ra St. Brown and Gabriel Davis were all discovered between Rounds 2-4 of the draft the last two years and have been huge contributors for their teams. There's simply no reason not to cash in on the abundance of young receiver talent hitting the draft year after year, and this year's draft could be rich with prospects on Day 2.
For the Vikings, there is established talent, emerging talent and potential talent in their receiver room, and most of it is cheap. This is a good situation to inherit for any offensive coordinator. The main question to ponder is why the offense dropped to 14th in points, 12th in yards and 17th in EPA last year with such a promising group that stayed healthy aside from Thielen. The answer to that question is likely some combination of Cousins and Klint Kubiak, who almost certainly won't be returning as play-caller. Inefficient early down play-calling, combined with an ineffective run game, too often put the Vikings in third-down situations Cousins was unlikely to convert because of his own limitations. Minnesota had the league's third-worst third-down to-go average and predictably tied for the most three-and-outs.
Fixing Cousins' issues won't be easy if he sticks around, but introducing a new philosophy that declares Jefferson the face of the offense, emphasizes early down passes and uses Cook more judiciously could get the most out of Minnesota's passing attack. It's also the best way to satiate Jefferson so he's not disenchanted with the Vikings like predecessor Stefon Diggs.
Each of the last two Januarys, fans and players alike walked away from the season feeling like the Vikings offense left meat on the bone. If the next regime wants to tap into the group's full potential, a nod toward the growth of the passing game is the way to go. That means empowering Jefferson and looking for more impact players to accompany him.