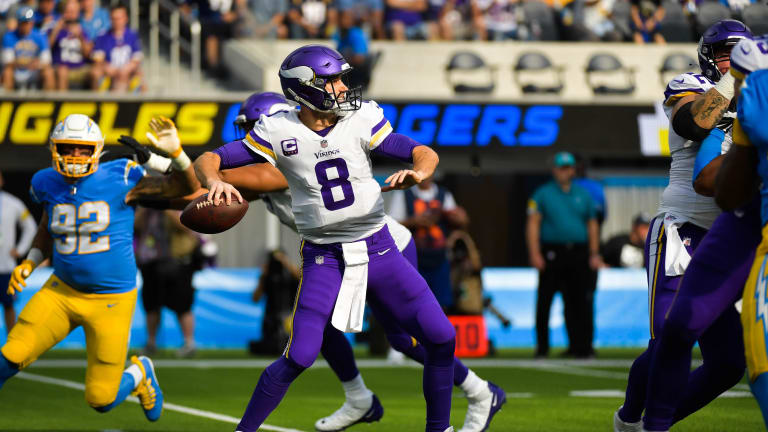 With coach and GM in place, it's time for the Vikings to trade Kirk Cousins
Trading Cousins will give the Vikings the space to create a great team.
The closest the Minnesota Vikings have been to winning a Super Bowl since Brett Favre is when they nearly drafted Andrew Luck in 2012.
Hold on, I know what you're thinking: What about 2017?
Technically speaking, yes. It did take a miracle for the Vikings to land in the NFC Championship and then they got their doors blown off by the Philadelphia Eagles. But yes, they were "close."
That's not really what I mean though. Having one random pop up season amidst a bunch of 8-8 type years and late-season pushes for the No. 6 seed is not "close" to the Super Bowl.
What it takes to be a consistent team competing for the Super Bowl is producing double-digit win seasons and then having things go your way in the playoffs one time.
Since 2000, 44 teams have reached the Super Bowl. Only two of those teams did not win at least 10 games in the regular season. The Cincinnati Bengals are only the fourth squad to reach
The Big Game with 10 wins. Quick math, that means 84% of teams to make the Super Bowl in the last two decades and change won at least 11 games. Luck led his team to 11-win seasons three times in his first three years and 10 wins once before retiring.
Let's punch that into the old calculator. That means that before Luck turned 26 years old, his team had as many legitimate chances to win a ring as the Vikings have since 2001.
What does that have to do with the cost of snow boots in Roseville?
Well, from 2016-2020, nine first-round quarterbacks out of 18 have produced an 11-win season or better. If we stretch it back to 2012, that number is 12 out of 28, but two second-round QBs in Derek Carr and Jimmy Garoppolo have also put their teams in position to win a Super Bowl at least once. Also the Cardinals drafted one QB who immediately busted in Josh Rosen and then quickly drafted another one who got them 11 wins in his third season.
Call it a 50-50 shot that if you draft a quarterback in the first round, you will get at least one opportunity to really win something in the subsequent years. If you land the Mahomes/Allen/Burrow, it's the equivalent of landing Andrew Luck and getting the golden ticket to year after year as a Super Bowl contender.
If you're annoyed at the use of quarterback wins here, it's actually not about QB wins. It's about team wins and the circumstances that it takes to win in the NFL. 
Hot take alert: Normally it takes having a very good team around a very good quarterback.
How does that happen? Another blazing bit of analysis: Drafting and signing free agents.
How does that happen? Wait for it: Draft capital and cap space.
You'll never be the same after all of that from Captain Obvious, I know. But here's the point: With Kwesi Adofo-Mensah and Kevin O'Connell in place, the Vikings have a chance to stack these things up if they trade Kirk Cousins and draft a quarterback in the first round. Now that O'Connell is in place, it's time to make the move and get rolling on the draft class.
Already we are hearing that prospects like Kenny Pickett and Malik Willis of the allegedly "weak draft" impressed NFL folks in Mobile, Alabama, at Senior Bowl practices. The myth is the weak QB draft comes from the idea that the prospect has to be perfect. We found out a few years ago in Minnesota that that's absolutely not true.
By Year 2 of Teddy Bridgewater, whose gloves were too small during draft season or something, the Vikings had an 11-win team that appeared on the cusp of something great.
If the drafted QB is horrendous, sure, you have no shot. If he's decent, you will get at least one year where things could go your way in the playoffs. Nobody thinks that Baker Mayfield, Jared Goff, Carson Wentz or Mitch Trubisky were any great shakes but all of their teams had one run at it. If the guy is great, you get lots of shots at it.
And usually the NFL doesn't know which guys will be great. Patrick Mahomes' ceiling was said to be Jay Cutler when he came out in the draft. Josh Allen was compared to Jake Locker by NFL.com.
With a Cousins trade, they could create cap space, build up draft assets and look for a talented prospect to build the roster around.
All of this isn't a slight on Cousins. It's the world we live in. The Vikings signed Cousins to give them a couple shots at the big time and they got zero 11-win seasons in four years. The fact that Cousins actually out-performed his play in Washington and still did not get his team to 11 wins demonstrates how hard it is to win with an expensive non-elite QB (who NFL executives ranked 18th before the 2021 season).
Adofo-Mensah and O'Connell represent completely fresh air. They have an opportunity to build an offensive line that can pass block, throw to the best player all the time, run when it's appropriate, and get along with their quarterback. If that quarterback is Cousins, the job is much, much harder. Ask the last guys, who went 39-25 from 2014-2017 and got stuck in the mud after that.
The question that always gets asked is, "Who is going to be a better option?" But that's the wrong question. The next QB doesn't have to be better than Cousins, he has to give them more value per dollar than Cousins. He has to be good enough that the restocked roster can win.
The question should always be: How are you going to win 11 or more games?
There's no guarantees in football but if the Vikings make the big trade, they'll be the closest they have been since they weren't able to suck enough for Andrew Luck. In the coming weeks, pulling the trigger on a deal will signify a completely new direction. And that's exactly what they need.