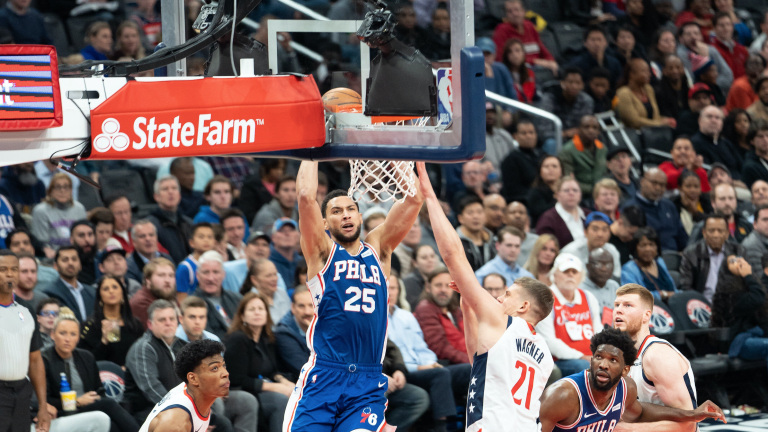 Wolves now the odds-on favorite to land Ben Simmons
It could be a very interesting month for Wolves fans.
Rumors are running rampant and the Timberwolves are the center of it all, as Ben Simmons' future with the Philadelphia 76ers is at a crossroads. 
All reports suggest Simmons' time in Philly is done despite him entering the second year of a $177 million, five-year contract. Earlier this week The Athletic's Jon Krawczynski said Simmons is open to being traded to Minnesota, which has led to Las Vegas oddsmakers making Minnesota the odds-on favorite to land Simmons. 
Sportsline has Simmons a +300 favorite to go to Minnesota (assuming he doesn't return to the 76ers). 
Timberwolves +300
Kings +400
Blazers +700
Warriors +700
Spurs +1000
Raptors +1200
Thunder +1500
Wizards +1700
Clippers +2000
The Kings have the second-best odds, but they're not considered a true trade contender, according to Sam Amick of The Athletic.
"Barring a drastic change in Philly's asking price, Ben Simmons won't be Sacramento-bound anytime soon - if ever," Amick tweeted Wednesday. 
The Athletic has a dynamite roundtable discussion about Simmons involving some of the top insiders in the league, including Krawczynski and David Aldridge, who both see Minnesota as the current top contender to trade for Simmons. 
But this isn't going to happen overnight. All indications suggest the Simmons situation will drag into training camp, at which point Simmons not showing up will put pressure on Philly to make a deal, and possibly reduce the asking price. 
NBA training camps begin Sept. 28, so buckle up for the next month or so. 
Watch: Vikings Live with Matthew Coller: The 53-man roster