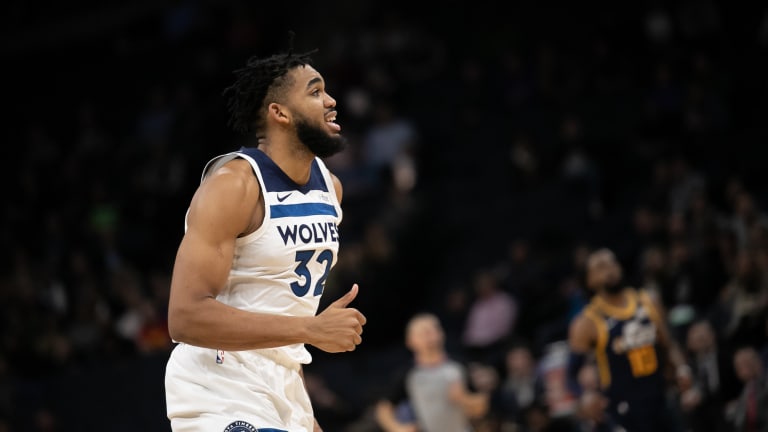 Wolves' Towns: 'Every day I see a new excuse why people ain't getting the vaccine'
No, the vaccine won't make your testicles swollen.
Karl-Anthony Towns, whose mother and six other family members have died from COVID-19, expressed continued incredulity about the objections to the COVID vaccine that has been proven to save lives.
"It never matters to people until it happens to them. I hope no one has to deal with what I've had to and still continue to deal with," the Timberwolves star wrote Tuesday in a response to The Athletic's Jon Krawczynski, who saw vile comments in response to Towns' tweet about people making excuses about the vaccine. 
"Every day I see a new excuse why people ain't getting the vaccine. Ya starting to get creative with these 'reasons' though and it's actually really funny," the tweet reads. 
Towns garnered hundreds of responses to his tweet, with many saying "freedom of choice" was their reason for not getting vaccinated.
But there were dozens of respondents who gave other reasons for avoiding a vaccine that has proved to dramatically reduce the risk of death and hospitalization, not to mention is FDA approved. 
Among the responses were claims that people who get the vaccine are "enslaved to societal pressure," some said they were more scared of needles more than a deadly virus, while others said they don't believe the government has their best interests at heart – despite the fact the vaccine is backed by the vast majority of the global health, scientific, and epidemiological communities.
Follow Bring Me The News on Twitter for the latest breaking news
There are also a significant number of responses that claim the vaccine can make a male's testicles swollen. Doctors say that claim, which went viral after rapper Nicki Minaj claimed it happened to her cousin, is just plain wrong.
Dozens of commenters said they aren't getting the vaccine because even vaccinated people can still get COVID-19. It's been said from the start that the vaccines don't 100% prevent infection, but the odds of being hospitalized or dying after being vaccinated are extremely low.
What's more, studies have found that the Pfizer and Moderna vaccines make a COVID illness milder and shorter for the majority of those who get it, meaning there is less chance they will pass it on to others.
NBA players are unlikely to be mandated to get the vaccine, according to ESPN's Adrian Wojnarowski, who reported Tuesday that approximately 85% of the league's players are already vaccinated.