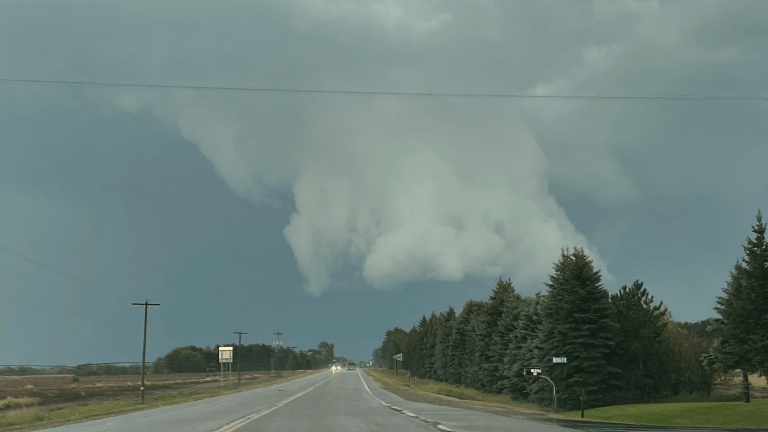 Damaging winds, tornadoes again possible in Twin Cities Monday
Storms are expected to intensify during the early afternoon hours.
After last week's overnight storms produced brief tornadoes and extensive wind damage in the Twin Cities and western Wisconsin, residents in and around those same areas are being advised to keep an eye on the weather Monday afternoon and evening. 
"Severe weather is possible Monday afternoon. The primary hazard will be damaging winds, but a few tornadoes are also possible," says National Weather Service in the Twin Cities. 
Weather is sponsored by All Energy Solar: get a free installation quote now!
Rain with thunder was ongoing Monday morning in southwest to northeast orientation from the Iowa border in south-central Minnesota all the way to the north of Brainerd. More storms are expected to develop to the east of the ongoing activity during the afternoon hours. 
The 7 a.m. update from the HRRR model shows more intense storms developing in eastern Minnesota by 1-3 p.m.
Storms that develop during the early to mid-afternoon hours could produce damaging winds, marginal hail and brief tornadoes, according to the NWS Twin Cities, which notes in the forecast discussion that "all types of severe weather" will be possible while the "largest threat will be straight line winds." 
Any tornadoes that develop could be of the QLCS variety, which is the acronym for "Quasi-Linear Convective System." They are typically associated with a line of storms and they form quickly with little warning. 
The tornadoes that struck Savage, Apple Valley, Burnsville and Le Sueur around 3 a.m. last Friday were QLCS tornadoes. 
"Today will be a good day to be weather aware and check the forecast throughout the day for updates!" the Twin Cities office of the NWS says. 
Meanwhile, there is plenty of moisture available so the end result for some of the driest areas of central and northern Minnesota could be more 1-3 inches of much-needed rain. 
And as the NWS says, this might be the last hurrah for severe weather in Minnesota for 2021. 
"With the extended period looking quite dry, this could very well be our last shot at strong to severe storms for the year, with the Autumn Equinox on Wednesday signaling a rapid reduction in our daylight moving forward," the NWS Twin Cities added.