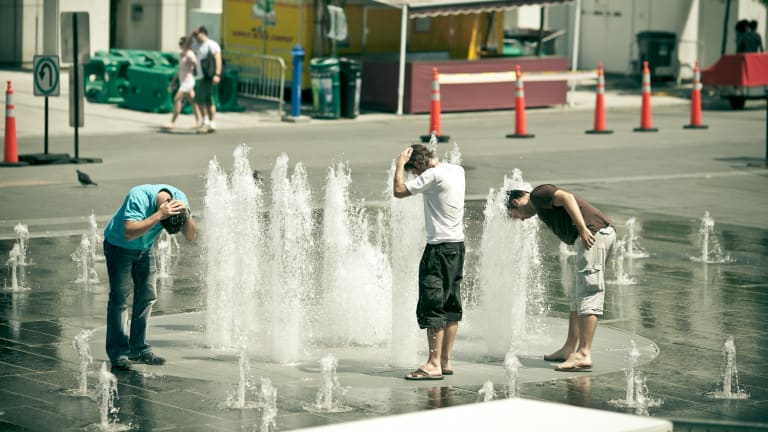 'Feels like' temp could surge past 100 in the Twin Cities Tuesday
This may be a taste of what could be a longer heat wave beginning this weekend.
Prepare to sweat like a sinner in church. The National Weather Service has issued an excessive heat warning for the seven-county Twin Cities metro area Tuesday from 11 a.m. to 8 p.m., as the combination of heat and humidity could make it feel like it's over 100 degrees outside. 
"Dangerously hot conditions with heat index values up to 103 expected," the warning from the NWS reads. "Extreme heat and humidity will significantly increase the potential for heat related illnesses, particularly for those working or participating in outdoor activities."
Weather is sponsored by All Energy Solar: get a free installation quote now!
The extreme heat will actually be felt in southwestern Minnesota today (Monday), with maximum heat indices possibly surpassing 100 degrees. It'll be cooler (though very humid) in the Twin Cities before the heat expands on Tuesday. 
"Hot temperatures will move into southwest Minnesota today and spread into southern and eastern Minnesota and western Wisconsin for Tuesday," the NWS says. "Temperatures will cool for the rest of the week, but another heat wave looks possible this weekend into early next week."
Let's look at what the models are predicting for Tuesday's temps and heat index. 
HRRR model: air temp on the left, heat index (what it feels like) on the right: 
NAM 3KM model: 
European model: 
American model: 
Canadian model:
More advice from the NWS: 
"Drink plenty of fluids, stay in an air conditioned room, stay out of the sun, and check up on relatives and neighbors. Young children and pets should never be left unattended in vehicles under any circumstances.

"Take extra precautions if you work or spend time outside. When possible reschedule strenuous activities to early morning or evening. Know the signs and symptoms of heat exhaustion and heat stroke. Wear lightweight and loose fitting clothing when possible. To reduce risk during outdoor work, the Occupational Safety and Health Administration recommends scheduling frequent rest breaks in shaded or air conditioned environments. Anyone overcome by heat should be moved to a cool and shaded location. Heat stroke is an emergency! Call 911."