Here comes Minnesota's heat wave: How long will it last?
Storms could also pop across northern Minnesota on Monday.
Thermometers throughout much of Minnesota have a good chance of touching 90 degrees every day this week – and potentially beyond.
According to the National Weather Service, the hottest temperatures will be across western Minnesota, where daytime highs later this week are forecast to rise into the mid-to-upper 90s. 
The Twin Cities will also be hot and sticky. The big question is just how hot it will get. The majority of computer models keep temps around 90 for the Twin Cities most of the week, but the American model continues to show more intense heat. 
Weather is sponsored by All Energy Solar: get a free installation quote now!
The American model is predicting 94 on Monday in the metro, 97 Tuesday, 91 Wednesday, 93 Thursday, 101 Friday, 97 Saturday and 96 Sunday. 
Making it feel even hotter will be rising dewpoints. The weather service expects dewpoints to surge into the upper 60s and 70s by the end of the work week, which will elevate the heat index to potentially dangerous levels. The NWS Twin Cities says it may need to consider excessive heat watches and warnings later this week. 
The somewhat-good news is that the National Weather Service is monitoring potential for widespread rain chances as we head into the weekend. Nothing is certain at this time, but with more than 50% of Minnesota in severe drought, any rain is welcome. 
That said, the American, Euro and Canadian models keep daily high temps in the 90s through next week, so it could be an extended heat wave for the precipitation-starved Upper Midwest and Northern Plains. 
Small chance of strong storms in northern Minnesota Monday
The Storm Prediction Center has placed a stripe of northern/central Minnesota in a marginal risk for severe storms Monday afternoon. 
"A few storms may become strong to severe this afternoon into evening, and will be capable of producing gusty winds to 60 mph and large hail to the size of golf balls," says the Grand Forks office of the NWS.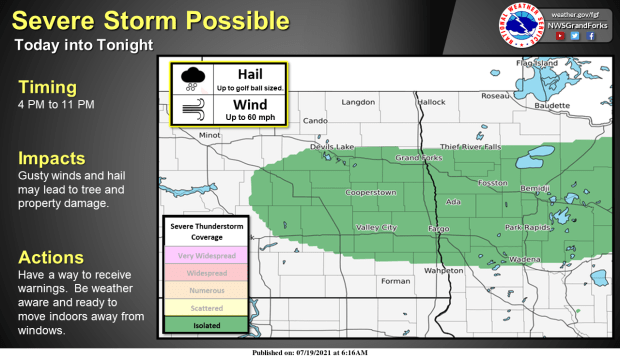 Here's a look at the simulated future radar from the HRRR model. It actually shows some rather robust storm activity that stays alive into Tuesday morning, possibly bringing some rain to the Twin Cities. 
If the HRRR models plays out as it shows, it could be good for the Bemidji area that is suffering through extreme drought conditions, in addition to increased wildfire potential.