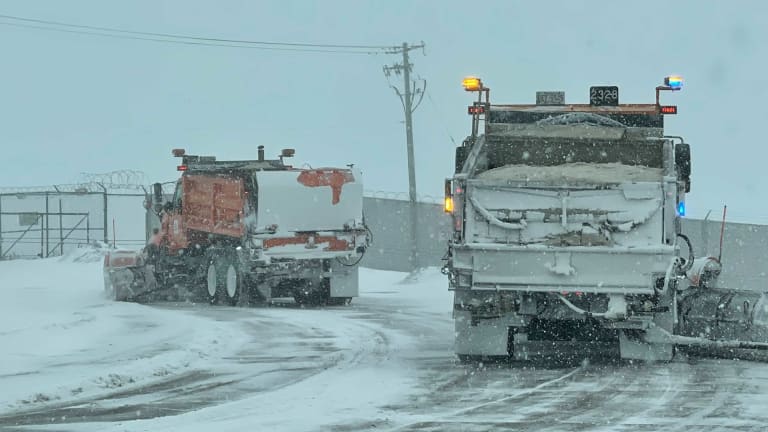 Longer-term forecast: Will Minnesota stay stormy? Cold or mild?
Meteorologist Sven Sundgaard takes a look at what's next for Minnesota's winter.
Winter has certainly been off to a stormy and cold start. December's surplus of snow has been incredible and it also broke the seven consecutive month trend of warmer than normal temperatures. January so far has been quite a bit milder than normal (we're averaging +5.5 deg F above normal). So what can we expect the rest of this (on average) coldest month of the year and into the start of February? Let's take a look...
It is not common that every single long-range model agrees on much, but they do all agree on a warmer than normal January which seems to fit considering our pattern so far and what the models are pointing at for the next 7-10 days. 
Weather is sponsored by All Energy Solar: get a free installation quote now
But beware, there are signs of a temperature shift for late January and early February. While we have a strong polar vortex this year (which means most of the coldest air stays toward the pole), we have had a few 'stretching events,' i.e. major bubbles of warm air have shifted the polar vortex and stretched it, which can push some pretty cold air temporarily south into North America and Europe. One of these 'stretching events' is being forecasted pretty consistently by the models in a couple weeks, which would have a domino effect and bring some cold in our direction by the last week of January that could linger into the first week or two of February.
Here's what the polar vortex looks like now:
Here is the forecast stretching event by Jan. 20:
So, we can probably anticipate below normal temperatures to end January and for the first third of February. It won't be enough to keep January from being above normal since three of the four-plus weeks will be milder than normal.
Okay, so what about snow?
As always, precipitation is a whole different level of complexity and difficulty in long-range forecasting. It's worth taking a look at what happened in December.
As I talked about in November, we were looking at a few long-range indices to give us a clue to precipitation and temperature patterns. A lot of hoopla surrounded a shift to a negative North Atlantic Oscillation (NAO), especially on the east coast, which can result in some big storms there. Well, the negative NAO did pan out, but it was more stormy for us and into the Great Lakes region, but not so snowy on the northeast coastal areas.
The set up for the particular negative NAO we had in December was ideal for us to be both cold and stormy. While we often see colder than average temperatures with a negative NAO in Minnesota, the stormy part can be anywhere from Minnesota to the east coast.
Above are NAO indices for some of our snowiest Decembers in the past two decades. December 2010 was when the Metrodome roof collapsed due to heavy snow. The Twin Cities had more than 33 inches that month. December 2009 was comparable with this year with near 20 inches of snowfall, and 2000 was near 30 inches. Normal December snowfall for reference is about a foot for the Twin Cities.
While all of these snowy Decembers (this year included) saw negative NAO indices, you can see they all varied in intensity.
Here's a reminder of the overall, big picture pattern associated with a negative North Atlantic Oscillation (NAO):
So what does the NAO look like in the weeks ahead? Well, the models are quite mixed. Overall, we stay positive through much of January, but at the same time we see a drop in temperatures, when the NAO may turn negative, at least for a time. Here's a view of the American model's long-range ensembles (remember ensembles are various tweaks to the model's conditions to create numerous scenarios that are then averaged together):
So we can see that the NAO, at least in this model does indeed turn negative but other models show not quite as big of a drop or even a more or less neutral forecast. I would bank on the colder temperatures signal but whether this could signal a stormy pattern is yet to be determined.
The models themselves paint a mixed picture on precipitation anomalies (difference from normal):
Two of the three models favor a slightly above normal precipitation pattern into the first week of February but one is slightly drier. None of these look like a slam dunk to me and given the mixed messages on the NAO front, I would say it's anyone's guess on storms but I would err toward normal snowfall the rest of this month into the start of February. So if you were hoping for us to go toward that record of 98.6 inches of snow in 1983-1984, probably not. It's VERY rare to have consistent storminess like we saw in December for three months in a row. 
We do have a strong polar vortex this year though, so I don't expect major disruptions or sudden stratospheric warming events which result in the unleashing of the most brutal air deep into North America and/or Europe and Asia (such as we had in February 2021, January 2019, and in the 2013-2014 seasons, etc.). These stretching events that give us some cold air however seem to be a regular occurrence.
Happy winter! If you can believe it, we'll be halfway through meteorological winter in less than a week!