Road closures in southern Minnesota due to river flooding
An ice jam has also been causing problems in St. Peter.
Flooding caused by spring snowmelt has led to road closures in parts of southern Minnesota.
Both the Minnesota and the Rush rivers have been experiencing extremely high levels due to the spring snowmelt, which was exacerbated at the weekend by temperatures that kicked into the 60s.
Highway 93 has been closed between Hwy. 169 and Henderson as a result of the flooding of the Rush River. MN-93 cuts a route south of Henderson, re-joining Hwy. 169 169 northwest of Le Sueur.
Drivers have been told to take a detour route along Hwy. 19, which joins up with Hwy. 169 east of Henderson.
On Sunday evening, Hwy. 99 at the Minnesota River Bridge was also closed in St. Peter due to flooding of the Minnesota River, though the Minnesota Department of Transportation said it would re-open at 10 a.m. Monday.
MnDOT says that "forecasted Minnesota River levels may result in another closure later this week."
Pictures shared by MnDOT also showed an ice jam trying to make its way downriver in St. Peter.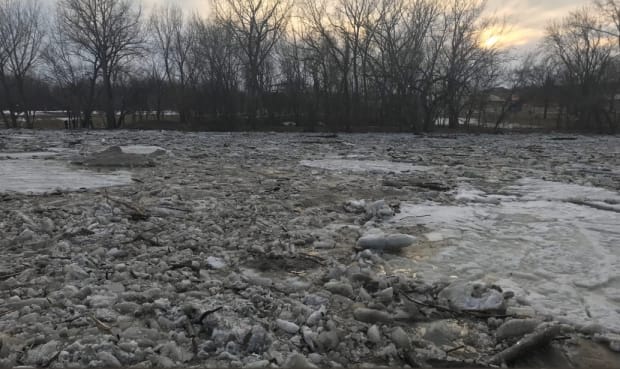 The Minnesota DNR's river levels tool shows that the Minnesota River is considered "very high" in several places right now, including at Henderson, Jordan, St. Peter, Lac qui Parle, and Ortonville.
A flood warning was also issued Sunday evening in Mower, Olmsted and Winona Counties, in southeast Minnesota near the Iowa border.
The Mississippi is at "very high" level near Deer River, but in the Twin Cities it's currently at a "medium" level.