Storm damage: Building blown over in Farmington, reports of baseball-sized hail in southeast Minnesota
Intense storms ripped through southern Minnesota on Tuesday.
Severe storms ripped through the southern half of Minnesota Tuesday afternoon and left behind wind and hail damage. 
In southeast Minnesota there were hail stones the size of baseballs – more on that below – and a bowing line of storms that plowed through the south metro left trees down, caused power outages and destroyed at least one building in Farmington. 
Nick Peters of the MN Weather Facebook page came across a building owned by Doc's Trucking at 23322 Cedar Ave. in Farmington. Here's the story Peterson told on the MN Weather Facebook page. 
"Well, one of the things they teach you at the NWS Weather Spotter training is if you see damage, check and make sure no one is inside....

I came upon this shop just a bit ago, and after 4 phone numbers finally got an answer... the old man I talked to sounded heartbroken...

I didnt want to bear bad news, however.... there was 2 cars parked in the lot, so I didnt know if anyone was inside... had to confirm...

Luckily no one was, but the sound in that mans voice was so dam sad. This was just south of Lakeville I love storms, but this is the part that breaks my heart...."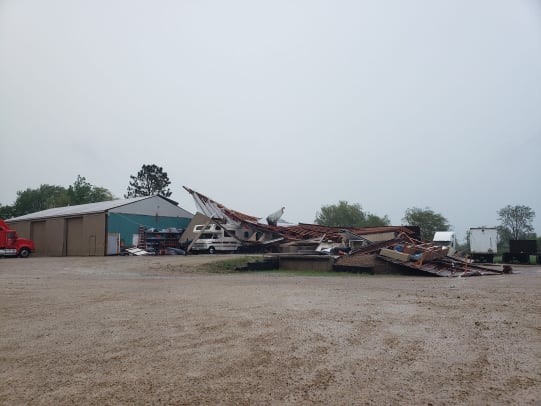 The damage was in the path of a severe thunderstorm that also carried a radar-indicated tornado warning in the areas of Prior Lake, Burnsville and Apple Valley. A tornado touchdown hasn't been confirmed, but the radar showed significant rotation. 
At about the same time storms were blasting through the south metro, another line of severe storms produced massive hail in southeast Minnesota. In Dodge Center, hail the size of tennis balls and baseballs was reported – and there's photographic evidence. 
Meanwhile, the intense downpours left streets flooded in the south metro and flood warnings in southwest Minnesota. 
More storms are primed to roll through many of the same areas in southern Minnesota later Tuesday night.