More than 50,000 without power after severe storms, tornadoes
Severe storms struck a huge area of Minnesota.
UPDATE 9:15 P.M.
Xcel Energy says more than 50,000 households in Minnesota are currently without power.
The vast majority of the affected homes are in the Twin Cities, with more than 20,000 in the northern inner suburbs including Robbinsdale, Crystal and Columbia Heights.
There are reports of numerous trees and branches down across the metro, as well as electrical damage caused by lightning strikes.
UPDATE 8 P.M.
A tornado warning has been issued in the Twin Cities, with the warning siren activated.
A radar indicated tornado warning has been issued for the north metro, including Brooklyn Park, Blaine, and Brooklyn Center until 8:30 p.m.
UPDATE 6:45 P.M.
There have been more reports of tornadoes near Grove City and Hutchinson, while a funnel cloud is forming near Norwood Young America.
And here's a look at the damage from near Elbow Lake in Grant County earlier.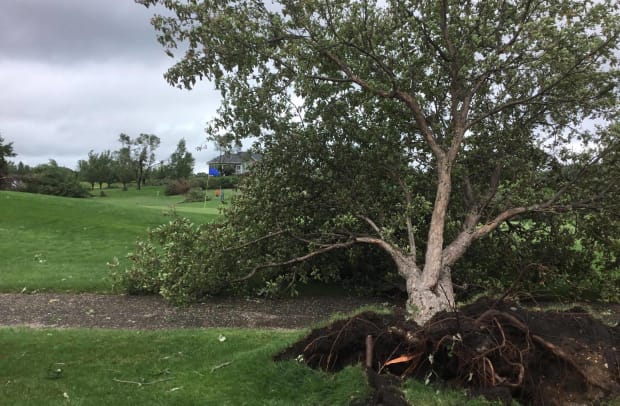 UPDATE 6 P.M.
There have been a series of tornado warnings issued as the storm system makes its way east across Minnesota, and reports of one twister touching down in Grant County.
The possible tornado landed near Elbow Lake, in west-central Minnesota, and early reports suggest some damage may have been inflicted near Pomme De Terre Lake.
Storms are now making their way towards the Twin Cities, though the metro is not thought to be at risk from tornadoes.
Original story
The National Weather Service Storm Prediction Center has issued a tornado warning covering a large area of central and southern Minnesota.
The watch issued just after 2:30 p.m. covers an area stretching from the western border of the state to an area west of the Twin Cities metro.
The watch is in place until 8 p.m Friday, with the storm system also due to bring the potential for large hail and damaging winds.
This is the best looking day for tornadoes all summer
By BMTN's Sven Sundgaard
I'm watching west central Minnesota VERY closely this afternoon. Things are really setting up for severe storms, specifically the possibility of tornadoes initially late afternoon.
There's a textbook set up of low level winds and mid level winds "crossing over" (i.e. moving in different directions), providing shear that gives storms rotation potential.
The super cell index and tornado indices are highest I've personally seen in Minnesota really this summer. There's also the potential for very large hail. Hail parameters give us potentially 4"+ hail in some storms: that's softball!
Stay STORM ALERT this afternoon and evening. The worst storms will be central/west but what's left will move east into the metro & western Wisconsin with continued high wind/hail possible. Initial development will be 4-5pm in western Minnesota, moving into central MN by 5-7 p.m., then metro by 7-8 p.m.